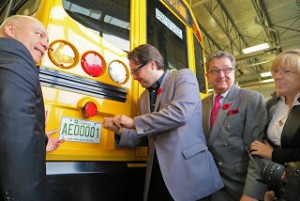 By Robert Frank
www.thesuburban.com
Seatbelts, everyone!
On Friday, the Quebec government rolled out what it termed "the first school bus in the world powered exclusively by electricity" during a news conference in Laval.
Within the next few months, school bus operator Chartrand Inc. plans to start using the prototype, 72-seat school bus to carry Commission scolaire de Laval schoolchildren to-and-from classes.
Provincial Energy Minister David Heurtel told reporters that each battery-powered bus will slash greenhouse gas emissions by 23 tonnes a year, compared to diesel powered buses.
"The Quebec government picked up 60 percent of the $1.1 million spent to develop the project," he said, "in other words $675,000."
"Until now, all electric school buses have been converted from diesel vehicles," National Advanced Transportation Centre CEO Sylvain Castonguay told The Suburban. "This is first purpose-built electric model."
He added that he hopes that the technology can eventually be applied to commercial trucks, as well.
At more than $200,000 per vehicle, the buses cost twice the price of their diesel-powered counterparts. However Castonguay expects that operators will save more than that during the more than a dozen years that each electric school bus is expected to last.
"It costs in the order $3,000 per year to operate compared with some $12,000 per year for a similar, fossil-fuel powered vehicle," he explained in an interview. "There are also fewer moving parts, which ought to entail less maintenance. We hope that it snowballs."
The only hydrocarbons that the buses will use will be diesel oil to power the space heaters that will keep the children warm inside, during the cold Canadian winter.
Manufacturer Lion Bus estimated that demand "will increase gradually to a level of several hundred electric vehicles per year."
"It has a range of 100 km," Castonguay added, "and another five-hour charge during the day will extend its range to 200 km."
(Left to right) Quebec Transport Minister Robert Poëti, Energy Minister David Herutel, Vimont MNA Jean Rousselle and Family Minister and Minister for Laval Francine Charbonneau affix Quebec's first green school bus license plate, Nov. 7.
(Photo © Robert Frank)
Quebec's first electric-schoolbus license plate.