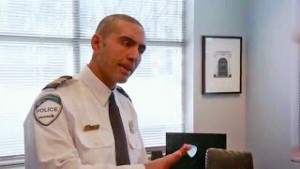 By Robert Frank
www.thesuburban.com
Montreal Police Station 5 Commander Mohamed Bouhdid has convened two public consultations, Nov. 19 and 26, to sound out residents about local security issues.
"Your comments and suggestions as residents and partners will help us to establish our 2015 Action Plan," Cmdr. Bouhdid said in a statement. "It will help us to prioritize our objections and actions during the coming year to give you the best possible service, while at the same time working together."
"We want to hear your concerns and other comments about security," he said. He added that the sessions will also give him an opportunity to provide a round-up of Station 5's accomplishments so far during 2014.
Next week's get-together will be held at 7 p.m., Wednesday, Nov. 19, at the Sarto Desnoyers Centre in Dorval at 1335 Lakeshore in Dorval.
The following week the venue will shift to Pointe Claire, where Cmdr. Bouhdid will moderate a meeting at city hall at 7 p.m., Wednesday, Nov. 26, at 451 St. Jean.
Coffee and cookies will be served.
"We hope to have the pleasure of seeing many of you," he concluded.
More information is available at the Station 5 web page or by calling Station 5 at [514] 280-0305.
"Our ability to deliver effective police service to the population depends a great deal on our cooperation," said Station 5 Cmdr. Mohamed Bouhdid.
(function(i,s,o,g,r,a,m){i['GoogleAnalyticsObject']=r;i[r]=i[r]||function(){
(i[r].q=i[r].q||[]).push(arguments)},i[r].l=1*new Date();a=s.createElement(o),
m=s.getElementsByTagName(o)[0];a.async=1;a.src=g;m.parentNode.insertBefore(a,m)
})(window,document,'script','//www.google-analytics.com/analytics.js','ga');
ga('create', 'UA-45892555-1', 'auto');
ga('send', 'pageview');