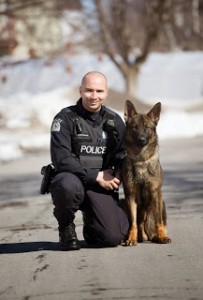 By Robert Frank
www.thesuburban.com
Fresh out of pooch-patrol academy, rookie Laval Police dog Fratz hit the ground running by tracking down four alleged criminals overnight, Oct. 14-15.
"It was his second evening on duty, as well as for his handler, Const. Eric de Carvallho," Const. Franco di Genova told The Suburban.
The first incident took place in Chomedy's industrial park, north of Highway 440.
"At about 11:30 p.m., we received a call that three suspects were seen breaking into Hydro Québec's property at 1881 Michelin,' Const. di Genova said in an interview. "Fratz tracked them through the surrounding fields and then south through the industrial park. He then proceeded to find them one at a time."
He suggested that the trio were there to steal metal like copper wire from the Hydro facility.
"Two were aged 18 and the other was 24," Const. di Genova said. "They were arrested for breaking and entering."
He added that such metal thievery has declined in recent years.
"It has been a while," he said. "Three or four years ago we used to see bronze plaques stolen from cemeteries. That sort of crime is down quite a bit."
By 3 a.m. the same night, Fratz was again called after a motorist fled his vehicle on foot, following a high-speed car chase through city streets.
"A high-end Jeep Cherokee refused to pull over for police, who pursued at speeds up to 120 km/h," continued Const. di Genova. The suspect made it all the way to a residential area of Vimont before he abandoned his car and ran. Twenty minutes later, Fratz found him hiding in a cedar hedge."
Police have charged the man with several Highway Code infractions, as well as causing a police pursuit. They have ordered blood samples to be tested.
"We suspect that he might have been inebriated by alcohol," said Const. di Genova.
Rookie Laval Police dog Fratz and his handler Const. Eric Carvallho.
(function(i,s,o,g,r,a,m){i['GoogleAnalyticsObject']=r;i[r]=i[r]||function(){
(i[r].q=i[r].q||[]).push(arguments)},i[r].l=1*new Date();a=s.createElement(o),
m=s.getElementsByTagName(o)[0];a.async=1;a.src=g;m.parentNode.insertBefore(a,m)
})(window,document,'script','//www.google-analytics.com/analytics.js','ga');
ga('create', 'UA-45892555-1', 'auto');
ga('send', 'pageview');