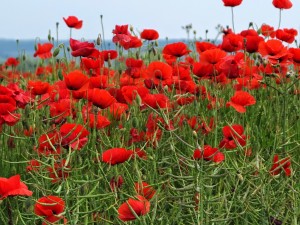 By Robert Frank
www.thesuburban.com
Mayor Marc Demers helped Laval Royal Canadian Legion Branch 251 kick off its annual poppy fundraising campaign, Oct. 27.
"It helps us to give aid to veterans," this year's poppy campaign chairman Ron Ellison told The Suburban. "We help them if they have problems, even for something as simple as filling out forms."
Mayor Demers visited the Chomedey Legion headquarters on Labelle Boulevard, Monday morning to mark the occasion, together with the National Assembly's entire Laval caucus, including Francine Charbonneau (Family Minister and Minister for Laval) as well as Guy Ouellette (Chomedey), Gilles Ouimet (Fabre), Saul Polo (Laval des Rapides), Jean Rousselle (Vimont) and Jean Habel (Ste. Rose).
"The poppy campaign is an opportunity for us to remember our veterans, the men and women who have sacrificed their lives to defend our most important values of freedom and democracy," Ouellette told
The Suburban.
"Wearing a poppy is a small but significant symbol, a way for us to show our soldiers and veterans the respect and appreciation that we have for them".
Where can I get a poppy?
Walmart, Target, and Maxi (St. Martin)
Oct. 31-Nov. 11
Montmorency Metro Station
Weekday afternoons
Costco
Nov. 6–11

IGA Ste. Rose and Fabreville
Nov 1-3
Poppies will also be available at most Tim Horton outlets, Laval city hall and municipal offices, most TD Bank branches and many Centre Laval stores as well as at the Chomedey Legion, 2000 Labelle.
"In the last 100 years, more than 117,000 Canadian soldiers have lost their lives protecting the freedom and democracy that we hold so dear," Ellison said in a statement. "Thousands more have been injured and bear deep scars, both visible and invisible. Just imagine how many families have been touched by these tragedies. Wearing a poppy shows gratitude and respect to those brave soldiers, who have given their all to protect us and to those who continue to do so."
The poppy remains a symbol to help us remember and appreciate soldiers' service and sacrifice, Chomedey MNA Guy Ouellette told The Suburban.
(function(i,s,o,g,r,a,m){i['GoogleAnalyticsObject']=r;i[r]=i[r]||function(){
(i[r].q=i[r].q||[]).push(arguments)},i[r].l=1*new Date();a=s.createElement(o),
m=s.getElementsByTagName(o)[0];a.async=1;a.src=g;m.parentNode.insertBefore(a,m)
})(window,document,'script','//www.google-analytics.com/analytics.js','ga');
ga('create', 'UA-45892555-1', 'auto');
ga('send', 'pageview');