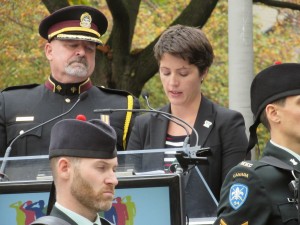 Johnston talks to students prior to Heroes Park opening
By Rhonda Massad and Kevin Woodhouse
www.thesuburban.com
Prior to visiting the Heroes Park cenotaph inauguration last Wednesday, Governor General David Johnston paid a visit to nearby Beaconsfield High School as students from the school helped contribute to a time capsule that was placed in the new park to be opened in 100 years.
"Students at the school will act as symbolic caretakers of the Park and Cenotaph which honours the service and sacrifice of military personnel, police, firefighters, paramedics and first responders in the course of their official duties," explained Lester B. Pearson School Board's Alycia Ambroziak.
"We live in a complex world filled with challenges," Johnston told the students. "Ask yourself what is the best way to serve the community.
"What do you want the world to look like; you have to decide what is right, what is just and what is fair," said the Governor General.
Following his speech, Johnston talked to students involved in the young entrepreneurs group, where the Governor General was informed that the students sell goods to benefit the less fortunate, Johnston insisted on purchasing homemade tea towels.
The sale from the towels will help students in the Dominican Republic.
The Governor General noticed student Sara Buscemi in a leg cast from a recent trampoline accident, who promptly signed her cast.
During the question and answer portion of the morning, a student asked Johnston what is the hardest part of being Governor General.
"As Commander-in-Chief, attending repatriation ceremonies of those who have died in service is the most difficult part of my job," said Johnston.
The Governor General also encouraged the student body to "cherish their teachers because apart from family, they play such very important roles in their lives."
Heroes Park cenotaph inauguration.
(Photo © Rhonda Massad)


Daniel Garvin, Commander of the Urgence Sante Honour Guard and Heroes park committee member and Kate Goddard, sister of Capt. Nichola Goddard, who died in Afghanistan in 2006
(Photo © Rhonda Massad)
Beaconsfield resident Doug Cooke was granted the award the Governor General's caring award. Created in 1995, the Governor General's Caring Canadian Award recognizes individuals who volunteer their time to help others and to build a smarter and more caring nation. The award also highlights the fine example set by these volunteers, whose compassion and engagement are so much a part of our Canadian character. It allows us to thank them for their contributions and for the positive impact they have had on the lives of others.
(Photo © Rhonda Massad)
690 Air Cadet Squadron cadets Thomas Fortier, Morganne Caroll and William Savage.
(Photo © Rhonda Massad)
Florence Lindsay reaches down to touch her late husband's commemorative border stone.
(Photo © Rhonda Massad)
(function(i,s,o,g,r,a,m){i['GoogleAnalyticsObject']=r;i[r]=i[r]||function(){
(i[r].q=i[r].q||[]).push(arguments)},i[r].l=1*new Date();a=s.createElement(o),
m=s.getElementsByTagName(o)[0];a.async=1;a.src=g;m.parentNode.insertBefore(a,m)
})(window,document,'script','//www.google-analytics.com/analytics.js','ga');
ga('create', 'UA-45892555-1', 'auto');
ga('send', 'pageview');