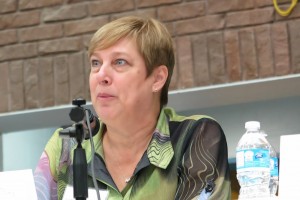 By Robert Frank
www.thesuburban.com
Uncertain about whom to vote for in the Nov. 2 Lester B. Pearson School Board (LBPSB) election? You would be wise to watch the webcast of the Oct. 20 candidates debate, which is archived at www.lbpsb.qc.ca

The repartee provided the best definition of what each candidate stands for of all the exchanges that The Suburban has witnessed during the election campaign thus far.
The debate, organized by LBPSB Central Parents Committee chair Bobbi Brown, was moderated by former Quebec cabinet minister Yolande James.
Suanne Stein Day during candidates debate at Greendale School, Oct. 15.
(Photo © Robert Frank)
Suanne Stein Day

Outgoing LBPSB chair Stein Day took credit for the school board's successes and for successfully navigating budgetary challenges, despite drowning in deep government cutbacks and reams of bureaucratic red tape. Indeed, according to Stein Day, the big issues are in Quebec City, not here. Education Minister Yves Bolduc wants to conduct a forensic audit? Bring it on.
"I've dealt with seven education ministers," she said.
If you're satisfied with the status quo, she's your candidate.
Angela Nolet during candidates debate at Greendale School, Oct. 15.
(Photo © Robert Frank)
Angela Nolet


Outgoing LBPSB vice-chair Angela Nolet is the candidate with the strongest ability to express herself in French, which she sees as an asset in policy wrestling with Quebec City bureaucrats and politicians. She has reproached the current administration's top-down style and lack of transparency.
She indicated that many parents fear being targeted if they come forward with complaints and promised to engage in more consultation with all LBPSB stakeholders if she is elected.
Although she is the least at ease of the three candidates in verbal sparring, in writing the Jesuit-trained communicator has demonstrated herself to be highly articulate and perspicacious.
LBPSB candidate Chris Eustace (left) wants to give more say to parents like Kim Candlish (centre), mother of prospective John Rennie High School student Riley Donal (right), Oct. 2.
(Photo © Robert Frank)
Chris Eustace


If Stein Day stands for status quo, then Chris Eustace represents revolution. Eustace wants to see LBPSB implement the 2008 reforms contained in Quebec's Bill 88, to give parents more say.

Eustace said that he shared Quebec Treasury Board Chair Martin Coiteux' ambition to rein in "lavish" school board overhead. He intends to put governing boards in charge of their schools, and sees the school board as serving schools needs, rather than "run like a top-down fiefdom".

He has had a close-up view of education during more than three decades as a teacher and a decade-and-half as an education watchdog. He criticized LBPSB for its lack of transparency on budget and other matters.

"No more school board secrecy. Rien," Eustace vowed, if he's elected. "I'm just an ordinary guy who will be there to serve. The 12 school commissioners will have their own say and debate publicly."
(function(i,s,o,g,r,a,m){i['GoogleAnalyticsObject']=r;i[r]=i[r]||function(){
(i[r].q=i[r].q||[]).push(arguments)},i[r].l=1*new Date();a=s.createElement(o),
m=s.getElementsByTagName(o)[0];a.async=1;a.src=g;m.parentNode.insertBefore(a,m)
})(window,document,'script','//www.google-analytics.com/analytics.js','ga');
ga('create', 'UA-45892555-1', 'auto');
ga('send', 'pageview');