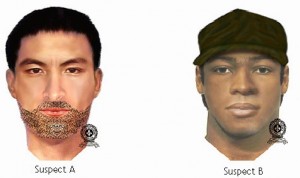 By Robert Frank
www.thesuburban.com
Laval Police are asking citizens to help them identify two men whom they suspect conducted a violent home invasion in Autheuil.
"On Aug. 20, around 5 p.m., the victim was in the driveway of his home when one of the suspected threatened him with a weapon while the other seized him," police said in a statement. "The suspects then entered the home with the victim before leaving, having stolen a significant sum of money."
Police described the first suspect as a 5'5", 150 lb Asian man about 25 years old, with dark skin, black eyes and hear and a closely trimmed beard.
They described the second suspect was a 6'2", 220 lb black man, also about 25 years old, who spoke with a Haitian accent and work a black ballcap.
They urged anyone who might be able to help identify or locate the suspects to call the Laval Police confidential tipline [450] 662-INFO (-4636) or dial 911 and mention file no LVL-1400820-115.
Police circulated computer-generated images of two suspects.
(function(i,s,o,g,r,a,m){i['GoogleAnalyticsObject']=r;i[r]=i[r]||function(){
(i[r].q=i[r].q||[]).push(arguments)},i[r].l=1*new Date();a=s.createElement(o),
m=s.getElementsByTagName(o)[0];a.async=1;a.src=g;m.parentNode.insertBefore(a,m)
})(window,document,'script','//www.google-analytics.com/analytics.js','ga');
ga('create', 'UA-45892555-1', 'auto');
ga('send', 'pageview');