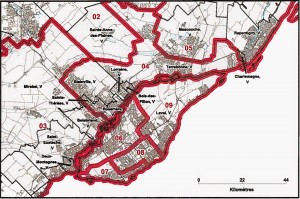 By Robert Frank
www.thesuburban.com
Eligible voters in Laval, North Shore, Laurentians and Lanaudière region will get to choose from two candidates who are vying for the top job at the Sir Wilfred Laurier School Board (SWLSB), during the upcoming election, Nov. 2.
After nominations closed on Sunday, Sept. 28 at 5 p.m., SWLSB election returning officer Linda di Domenico declared that Steve Bletas and Jennifer Maccarone are the only two candidates running to chair the board for the next four years.
Each of them heads a ticket of allied candidates who are seeking to be elected as one of SWLSB's nine school commissioners.
Bletas' ticket is called Students First, and Maccarone dubbed her ticket EducACTION.
Twelve candidates have tossed their hats in the ring in Laval's four school districts.
In Sainte Rose, Fabreville and northwestern Laval Emilio Migliozzi (EducACTION) will face off against Grace Nesi (independent) and Mike Pizzola (Students First) to become District 6 commissioner.
In southwestern Laval's District 7, Tracy Friedman (Students First) will run against Sollie Gliksman (independent) and Vicky Kaliotzakis (EducACTION).
District 8, which includes Chomedey and Sainte Dorothée, will see Dennis Konidis (independent) vie against Elio Lattanzio (Education) and Ailsa Pehi (Students First) for the commissioner's seat on council.
In Vimont and elsewhere in eastern Laval, Nicolas Bianco (Students First) will seek election in District 9, against Nazario Facchino (independent) and Paolo Galati (EducACTION).
Elsewhere, two of the candidates were unopposed in their districts and declared acclaimed by di Domenico.
Independent candidate Robert Dixon will represent District 2, which comprises the St. Jérôme and the lower Laurentians.
Likewise, EducACTION candidate Dean Dugas was acclaimed to represent District 5, which comprises Mascouche, Rawdon and other parts of the Lanaudière region.
The remaining three races will see Georges Benoit (EducACTION) competing with Peter MacLaurin (independent) in the upper Laurentians' massive District 1, which includes Mont Laurier and points north.
In District 3, which comprises Boisbriand, Saint Eustache, Deux Montagnes, Mirabel and points west, Frank Baker (Students First) is running against Guy Gagnon (EducACTION) and Jonathan Leggitt (independent).
Finally, Anne McMullon Panet-Raymond (EducACTION) will oppose Steve Mitchell (independent) in North Shore District 4, which includesRosemere,Blainville, Lorraine, Bois des Filion and Terrebonne.
A dozen candidates vying to be one of Sir Wilfred Laurier School Board's four Laval school commissioners in Nov. 2 election.
SWLSB's vast territory extends well north of Mont Laurier.