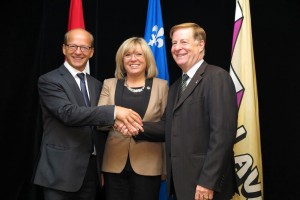 By Robert Frank
www.thesuburban.com
Senator Claude Carignan announced at a Sept. 22 news conference that the Conservative government will give more than $120 million of federal gas tax money during the next five years to help Laval rejuvenate its municipal infrastructure.
"It's always a pleasure to welcome such generous visitors," smiled Mayor Marc Demers, "and we hope that they return often."
"This will have a material impact," he continued. "Major work is needed after years of underfunding have taken their toll."
The mayor cited the closure of the St. Vincent de Paul pool that had become "unsafe for children" and a library that was recently shut for emergency repairs.
"One interesting aspect of this transfer is the latitude it provides," added Quebec Family Minister Francine Charbonneau, who doubles as the province's Minister for Laval.
She noted that the $120 million was part of $2.67 billion in municipal infrastructure that the federal government will transfer to Quebec.
The money comes with strings attached, setting out priorities such as public transit, culture, sport and recreation, however Charbonneau emphasized that, in Laval's case, the federal government will permit "the mayor to use 20 per cent of the total at his discretion without having to adhere to the priority list."
"This will give us a much bigger margin for maneuver," she said.
Mayor Demers said that none of the $24 million that that represents will be used for to offset the sharply increased cost of Laval's Place Bell sports, culture and community centre project.
(Left to right) Sen. Claude Carignan told Quebec Minister for Laval Francine Charbonneau and Mayor Marc Demers announced that the Conservative government will give Laval more than $120 million in gas tax money.
(Photo © Robert Frank)