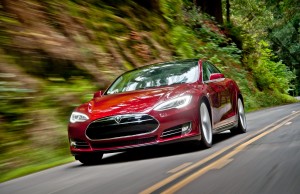 By Robert Frank
www.thesuburban.com
American multimillionaire author Jim Rogers has singled out Laval-headquartered mining firm Maison Graphite as the logical choice to supply the US $5 billion gigafactory that Tesla Motors plans to build.
The gigafactory will permit Tesla to ramp up its battery production and achieve its goal to sell 500,000 electric cars a year by 2020. Customers line up to buy Tesla's Model S electric-only sports car, which Car and Driver named car-of-the-year, and there's already a long waiting list for its yet-to-be-released Model X electric sport utility vehicle.
"I think [Mason Graphite] has the largest deposit of graphite in the world," the commodities investor, whose net worth is estimated at $300 million, told an American interviewer, "and it's run by an extremely knowledgeable group of people, and I know that, if graphite has a future—which it does—and graphene, then this company's going to do extremely well."
"We are not yet a Tesla supplier," Maison Graphite vice-president Simon Marcotte told The Suburban. "We cannot comment on this."
"Depending on the manufacturer, there can be 10 to 20 times more graphite than lithium in a lithium-ion battery," Marcotte explained in an interview. "It's a very critical part of the battery."
"Our graphite deposit north of Baie Comeau has the highest grade of graphite in the world by a significant margin, as of today," he said. "According to a preliminary assessment, the grade would be 27 percent [pure graphite] for the first 22 years of operation of the mine."
"Combine the grade with Quebec's clean, cheap hydroelectric power and Maison Graphite should be the lowest-cost [graphite production] operation in the world, save for some Chinese operations," he explained.
Several Quebec parapublic investors have already contributed capital into developing the firm's mine.
"Resource Quebec injected $4 million into the company," Marcotte reported. "Sodimex, part of the Caisse de dépôt, injected a bit more than $4 million. FSTQ invested about $500,000. Finance in the public market totals about $16 million, more than we needed."
He said that Maison Graphite is currently spending the money to complete a feasibility study by mid-2015, and expects its graphite mine to enter operations by the end of 2015.
Maison Graphite's high-grade mine could help put popular Tesla electric cars within ordinary consumers' reach by 2020.
(function(i,s,o,g,r,a,m){i['GoogleAnalyticsObject']=r;i[r]=i[r]||function(){
(i[r].q=i[r].q||[]).push(arguments)},i[r].l=1*new Date();a=s.createElement(o),
m=s.getElementsByTagName(o)[0];a.async=1;a.src=g;m.parentNode.insertBefore(a,m)
})(window,document,'script','//www.google-analytics.com/analytics.js','ga');
ga('create', 'UA-45892555-1', 'auto');
ga('send', 'pageview');