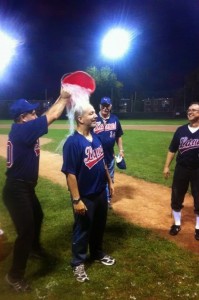 By Rhonda Massad
www.thesuburban.com
Oprah, Justin Bieber, Bill Gates, Lady Gaga, the New York Jets, Kermit the Frog, the Montreal Canadians, Montreal Mayor Denis Coderre, MNA Jean Habel, the entire Laval city council, blogger Julie Hindoyan and many more have all participated in the trending amyotrophic lateral sclerosis (ALS) ice bucket challenge. It has been an incredible turn of events that has brought more than $40 million in donations and awareness to a deadly disease.
Local blogger Julie Hindoyan focuses her blog on the little blessings of life, and offers tricks to lower anxiety and promote happiness in order to be better parents, spouses and friends. According to Hindoyan when she was challenged by her friend Pete Frates, who is affected by the disease, she was a little concerned about how she would manage it with three young kids at home on summer vacation.
"I aligned the kids, set the camera and went for it," Hindoyan explained in an interview. Sure it wasn't perfect, one of my kids dumped her bucket before the time, but in general challenge was accomplished."
"The ice cold water hitting your head takes your breath away for a moment and leaves you in stiff motionless position for a second," she said, "that sensation when the ice hits your body resembles what ALS patients can feel."
Hindoyan went on to challenge city Councillor Vasilios Karidogiannis.
"I was nominated to take the ALS ice bucket challenge by Julie Hindoyan," Abord à Plouffe Councillor Vasilios Karidogiannis exclaimed on Facebook. I accepted. I challenged all my fellow Laval city councillors and several other politician friends."
In turn MNA Jean Habel accepted the challenge. At press time, the challenge was set for Champfleury's family day on Aug. 24.
ALS, also known as Lou Gehrig disease, occurs throughout the world with no racial, ethnic or socioeconomic boundaries. ALS can strike anyone. The onset of ALS is insidious with muscle weakness or stiffness as early symptoms. Progression of weakness and paralysis of the muscles of the limbs and trunk as well as those that control vital functions such as speech, swallowing and later breathing generally follows.
ALS kills 2,500 Canadians each year. There is no known cure at this time. For more information or to make a donation visit
www.als.ca
.
City Councillor Vasilios Karidogiannis challenged MNA Jean Habel to the ALS Ice Bucket Challenge after getting iced himself.