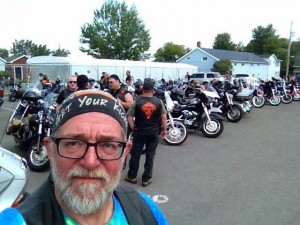 By Rhonda Massad
www.thesuburban.com
With his three-month motorcycle ride sabbatical coming to an end, Motopilgrim (also known as Archdeacon Michael Earl Johnson, incumbent of Christchurch Beaurepaire) came home to Beaconsfield to wind up one more motorcycle ride before getting back to work.
The seven-hour ride against hunger in support of On Rock Community Services (ORCS) consisted of a 300 km circuit from Pierrefonds to Vaudreuil-Dorion, to Hawksbury to Maxwell to Lancaster and back to Pierrefonds.
The archdeacon's sabbatical lasted three months and crossed 9,000 mi. of pavement, riding through the United States.
"I knew about the ride against hunger last spring," Johnson told The Suburban in an interview, "but I totally forgot about it while I was away on sabbatical. It was only last Sunday when I noticed a Facebook reminder that I remembered the ride. I started fundraising last weekend and am grateful to have raised more than $1,500."
The third annual ride brought out more than 75 riders. According to Johnson, the amount of riders has doubled in each year of the event. The riders are all fully licensed.
"I entered the ride solo, but was happy to have found a Christian group riding and rode with them throughout the day," Johnson explained.
The ride raised over $12,000 for the ORCS. Johnson looks at it as a continuation of what the support that the church gives On Rock all year long.
On Rock Community Services is a community organization committed to making a difference in the Montreal through initiatives such as a food bank, a school lunch program, and a community diner. More information about their community services can be found at
www.onrock.org
(function(i,s,o,g,r,a,m){i['GoogleAnalyticsObject']=r;i[r]=i[r]||function(){
(i[r].q=i[r].q||[]).push(arguments)},i[r].l=1*new Date();a=s.createElement(o),
m=s.getElementsByTagName(o)[0];a.async=1;a.src=g;m.parentNode.insertBefore(a,m)
})(window,document,'script','//www.google-analytics.com/analytics.js','ga');
ga('create', 'UA-45892555-1', 'auto');
ga('send', 'pageview');
Archdeacon Micheal Earl Johnson supported On Rock Community Services' Ride Against Hunger
(Photo © Rhonda Massad)