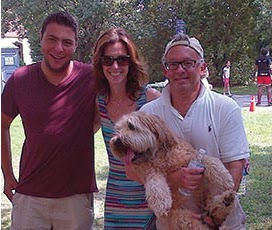 By Rhonda Massad
www.thesuburban.com
Centennial Park in Dollard des Ormeaux hosted the annual family affair day on August 3 from noon-4 p.m.

The event was moved from it's original date of July 27, due to rain that was non-existent on August 3. The beautiful weather along with the family-oriented activities and shows brought brought out more than four hundred people.
There were arts and crafts, inflatable games and alides, face painting and music.

A petting zoo was on site for those who wanted to test their spook levels and touch snakes and lizards. For the little ones, a balloon sculptor and puppet show made the day extra special.
The barbecue fed the crowd with hotdogs and hamburgers. Refreshments were plentiful.
Adam Luxenberg, community activist Brigitte Garceau and DDO councillor with his dog Murphy enjoy family affair day
(function(i,s,o,g,r,a,m){i['GoogleAnalyticsObject']=r;i[r]=i[r]||function(){
(i[r].q=i[r].q||[]).push(arguments)},i[r].l=1*new Date();a=s.createElement(o),
m=s.getElementsByTagName(o)[0];a.async=1;a.src=g;m.parentNode.insertBefore(a,m)
})(window,document,'script','//www.google-analytics.com/analytics.js','ga');
ga('create', 'UA-45892555-1', 'auto');
ga('send', 'pageview');