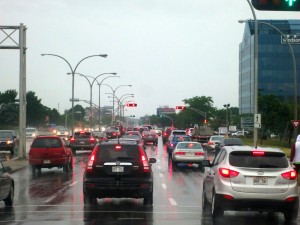 Don't expect new commuter rail lines anytime soon
By Robert Frank
With files from Kevin Woodhouse
www.thesuburban.com
The west end of Montreal has been stuck in a transportation time warp since 1976. The further you set foot west of downtown, the more you rewind the clock.
It's still Land of the Minivan in the western suburbs. That's not West Islanders' fault. Whether through benign or malign neglect, the province has often ignored or delayed grappling with most West Island transportation infrastructure needs for nearly four decades.
Public transit hasn't progressed much since the suburbs won their fight for Montreal bus service. Packed commuter trains that still share the busy transcontinental main line with freight trains got some newer, second-hand rolling stock, but don't hold your breath for the long-vaunted commuter-only Train de l'ouest.


With much fanfare, Quebec Transport Minister Robert Poëti this month simply commited $80 million to buy more used railcars, to add three more trains each way daily to existing lines that take commuters downtown and back. Delivery might take two years. The announcement differed little from three years ago, when Clifford Lincoln led a parade of West Island mayors downtown for a similar declaration by then-Transport Minister Pierre Moreau.
During the provincial election campaign, Premier Philippe Couillard promised to put the Train de l'ouest line "back on the table."
However, during this month's city council meeting, Beaconsfield Mayor Georges Bourelle cautioned residents not to expect to see Train de l'ouest up and running during the next four years of the new provincial government's mandate.
Meantime, the West Island's population has grown and its three main north-south road arteries—Sources, St. John and St. Charles—face daily gridlock at rush hour. There's no relief in sight.
Commuting is so delay-prone that telecom giant Bell recently told its persistently late employees that they will simply have to leave home earlier in the morning in order to get to work on time, or face disciplinary measures.
Transit times might soon spike, with pending closures to part of the Turcot exchange for repair work.
Rush hour means that a commute downtown from Île Bizard can take up to two hours. Many residents have already thrown in the towel and have moved closer to the city core. Among them are former Premier Pauline Marois and Transport Minister Poëti.
Yet an easy, effective solution has for decades languished on the drawing board: a fourth artery, the Jacques Bizard corridor, would run from Île Bizard over Highway 40 to the Lakeshore Hospital. Ironically, it would cost much less to remove the only roadblock—to expropriate a few blocks of housing in Pierrefonds—than the eye-watering sums that Quebec City is investing in other transport infrastructure projects.
For example, estimates of the price to complete Transport Quebec's infamous bridge to nowhere in Dorval on Highway 20 reportedly has already topped a half-billion dollars.
Reviving the Charest government's commitment to extending Highway 440 to Kirkland could incur a similar bill to build an overpass at Sainte Marie that will link it to Highway 40.
The 440 project came under fire from a number of West Island mayors, who contended that it will help developers to justify constructing new homes in Western Pierrefonds while doing nothing to relieve growing gridlock.
Boulevards like St. John (pictured) and its counterparts St. Charles and Sources have for years operated beyond their design capacity. The result? Traveling north or south on the West Island takes longer than heading downtown.
(Photo © Robert Frank)
Transport Quebec owns land in Beaconsfield at the north end of Angell Woods that could be cleared to build an entrance ramp to link Highway 40 with the Highway 440 extension.
(Photo © Robert Frank)
Sainte Anne de Bellevue citizens are paying dearly to reopen Highway 40's derelict Exit 41, which has been closed for nearly two-and-a-half years.
(Photo © Robert Frank)
Quebec still needs to resolve right of way issues in order to complete Dorval's bridge to nowhere, which has for years stood unfinished at the gateway to the province's largest airport.
(Photo © Robert Frank)
The Suburban witnessed provincial inspectors checking the Côte Vertu overpass, soon after blocks concrete fell from a nearby span at Henri Bourassa, Jan. 13. That didn't stop it from raining 10 cm chunks of concrete onto Highway 40 below, Apr. 16, raising doubts about Transport Quebec's inspection techniques.
(Photo © Robert Frank)
July 6, 2012, the Donegani overpass in Pointe Claire released baseball-sized chunks of concrete onto the street below. In 1993, then-municipal affairs minister Claude Ryan forced cities to take over provincially built bridges like it, so now, city taxpayers are footing the $3.7 million bill to restore the viaduct's crumbling concrete and rusting reinforcing rods.
(Photo © Robert Frank)
Commuter rail in Quebec is way behind Ontario's GO Transit and British Columbia's SkyTrain systems. A proposal to turn CN Rail's existing Doney spur into a commuter line parallel to Hymus in Pointe Claire never went beyond the drawing board.
(Photo © Robert Frank)
The province recently postponed its longstanding plan to replace the Sources overpass over Highway 20 this year. The viaduct underwent emergency repair Jan. 14, to fix loose concrete.
(Photo © Robert Frank)

(function(i,s,o,g,r,a,m){i['GoogleAnalyticsObject']=r;i[r]=i[r]||function(){
(i[r].q=i[r].q||[]).push(arguments)},i[r].l=1*new Date();a=s.createElement(o),
m=s.getElementsByTagName(o)[0];a.async=1;a.src=g;m.parentNode.insertBefore(a,m)
})(window,document,'script','//www.google-analytics.com/analytics.js','ga');
ga('create', 'UA-45892555-1', 'auto');
ga('send', 'pageview');