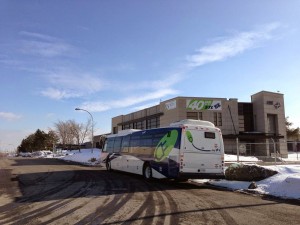 By Robert Frank
www.thesuburban.com
Laval's transit authority garnered laurels for its work on developing battery-powered buses to ply the city's transit routes.
Société des transports de Laval (STL) began testing its rechargeable bus on city streets last year, and is currently studying what sort of infrastructure investment would be needed to acquire a fleet of the zero-emission vehicles.
Since batteries become less efficient when they are cold, the acid test for the new technology was how the vehicle would perform in the harsh conditions of a Canadian winter.
"We have learned a lot since November," STL head of maintenance management Sylvain Boucher told The Suburban. "We used the bus on real routes in Laval—without passengers at first, then with passengers—to determine what kind of routes we can envision using it on."
He said that the real-world experience has taught STL how to get the most out of the electric vehicle.
"Basically, since some of our route configurations permit the bus to return to the garage, it's possible to extend its range with a partial recharge," he said.
STL plans to continue its testing and analysis during the months to come.
"We're currently working with Hydro-Québec to determine what kind of electrical facility we will need to power an electric fleet," Boucher added. "We will also have to determine how best to modify our routes to maximize electric bus usage."
"We still have some analyses to perform to complete our knowledge," he concluded. "We're confident that all tests will be completed by the end of this year."
STL's $900,000 test bus was manufactured by Designline in Charlotte, North Carolina. The firm filed for bankruptcy in August, but was rescued in November by a white knight investor.
The $2 million battery bus pilot project was partly subsidized by Hydro-Québec ($100,000) and the Quebec government ($600,000).
The environment-conscious transit operator has also ordered 100 hybrid diesel-electric buses, which burn much less fuel than their conventional, diesel-only powered counterparts. STL expects to receive its new hybrids over a four-year period, with the last ones slated for delivery in 2017.
Laval scoping out possible electric bus fleet after battery-powered prototype (pictured) successfully braved Canadian winter.