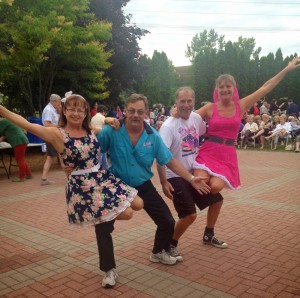 By Rhonda Massad
www.thesuburban.com
Dollard Concerts in the Garden hosted Craig Morrison and The Momentz, with Vintage Wine on July 4. They quite simply brought down the house.
More than 300 people showed up, to the free concert, with their portable chairs in hand. They did not need them. They were too busy dancing to sit down.
Songs from the '50s and '60s rang out through the courtyard. Songs like That'll Be the Day by Buddy Holly, She Loves You by the Beatles, I Can't Get No Satisfaction by the Rolling Stones and so many more great oldies but goodies.
"I come to this particular night every year, he is a music professor at Concordia University and the music is great. We pay every year to see him at his annual February concert at Oscar Peterson Hall," Heather McClellan Dollard resident told The Suburban before the concert started, " I think it's a great way to spend the evening."
Craig Morrison is a Montreal-based ethnomusicologist, author, teacher and musician. He has released 11 CDs, written two books and many articles on music.

Lynn Villeneuve, Louisette Bernier, Alain Pearson and Gilbert Ouellette danced to the sounds of the fifties and sixties.