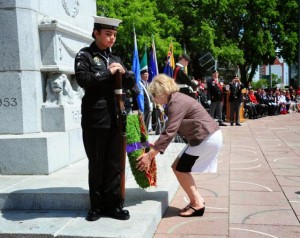 By Robert Frank
www.thesuburban.com
Sainte Dorothée resident Niki Psiharis laid a wreath at the Edmonton cenotaph, June 15, on behalf of all mothers of Canadian soldiers.
She visited Alberta's capital as the Royal Canadian Legion's National Silver Cross Mother. The title comes from the medal that the federal government has, since 1919, awarded to parents a Canadian Armed Forces member who perishes while on duty.
Seven years ago, Psiharis' son, Sgt. Chris Karidigiannis, died in a mine blast that struck his vehicle about 40 km west of Kandahar, Afghanistan, June 20, 2007.
Sgt. Karidigiannis is also survived by his elder brothers Peter and Spiro. His father, Anastasios Karidigiannis, died of cancer in 1990.
Psiharis is the sixth National Silver Cross Mother from Quebec since the Legion started this tradition 60 years ago.
She symbolized all soldiers' parents during national memorial ceremonies in Ottawa, last year, and the Legion invited her to Edmonton for this week's national convention, where 1,200 delegates who represent some 300,000 Legion members assembled on Sunday. The confab is slated to wrap up today.
As The Suburban went to press, the delegates were deliberating over more than a hundred resolutions, most of them dealing with the well-being of Canadian Armed Forces and Royal Canadian Mounted Police veterans.
The Legion is best known for its efforts to preserve the memory of those who served, particularly for its annual poppy fundraising campaign prior to each Remembrance Day, Nov. 11.
Canada's largest national veterans' organization has long generally supported federal policy. However, the Legion has of late highlighted significant gaps in government compensation for injured veterans and called on Canada to move briskly to honour its commitment to the country's veterans and their families.
National Silver Cross Mother Niki Psiharis represented all Canada's mothers of soldiers in Edmonton on Sunday