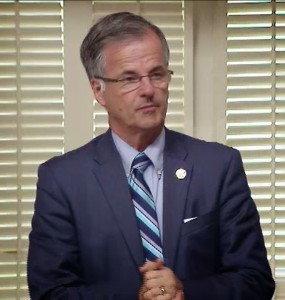 By Robert Frank
www.thesuburban.com
A large majority of Chomedey citizens are worried about the euthanasia law that Quebec passed, June 5, said the riding's longtime MNA Guy Ouellette.
"This was often expressed by elderly people who voiced concern about being pressured by this law," Ouellette told fellow legislators and then highlighted some of the questions that they expressed.
"Will they still be free to make their choice or will they feel pressured to stop receiving treatment? What will happen if they still want to continue their treatment? What if a member of their family or their doctor disagrees with their decision? What will happen to the more vulnerable and those who are alone? What if the doctors are wrong in their diagnosis? Those were some of the concerns that they voiced to me on several occasions," he said in the National Assembly before voting against the bill.
Ouellette said that Chomedey residents also expressed concerns about potential blunders—or worse.
"They fear that the law might be extended to minors, people suffering from mental illness and the handicapped," he said. "Citizens also fear that applying the law will be difficult and that the steps that have to be followed to allow someone to die might not be respected to the letter [of the law] and that there will be abuses and that the law might encourage fraud."


Prefers palliative care
Ouellette contended that the Quebec government should put greater emphasis on helping people in the last days of life.
"All [Chomedey citizens] agreed that pain and hardship can be alleviated by good palliative care and that's where the focus should be," he underscored."
"I lost my father in December 2012 and my mother-in-law two days before the election," Ouellette added on a personal note. "Despite extraordinary medical care in palliative treatment, it was still they who decided and had the last word with respect to their eternal departure."
Laval des Rapides MNA Saul Polo also voted against the bill. The remaining four Laval MNAs—Francine Charbonneau (Mille Îles), Gilles Ouimet (Fabre), Jean Habel (Ste. Rose) and Jean Rousselle (Vimont)—all supported the euthanasia bill, which was passed by a majority of Quebec legislators. It is not due to come into effect for another year-and-a-half.
Chomedey's elderly, handicapped, mentally ill fear new law could be abused, Guy Ouellette told National Assembly.

(function(i,s,o,g,r,a,m){i['GoogleAnalyticsObject']=r;i[r]=i[r]||function(){
(i[r].q=i[r].q||[]).push(arguments)},i[r].l=1*new Date();a=s.createElement(o),
m=s.getElementsByTagName(o)[0];a.async=1;a.src=g;m.parentNode.insertBefore(a,m)
})(window,document,'script','//www.google-analytics.com/analytics.js','ga');
ga('create', 'UA-45892555-1', 'robertfrankmedia.blogspot.com');
ga('send', 'pageview');