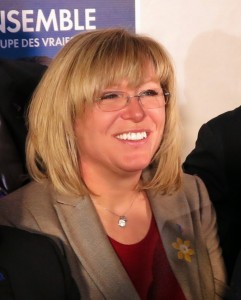 By Robert Frank
www.thesuburban.com
There's a Laval resident at the Quebec cabinet table again. Quebec Premier Philippe Couillard tapped thrice-elected Mille Îles MNA Francine Charbonneau to serve as family minister, as well as minister for seniors. She will also lead the provinces fight against bullying.
Couillard also made Charbonneau regional minister for Laval. Quebec's third-largest city had hitherto been the responsibility of Parti québécois cabinet minister Nicole Léger, a Montreal native who represented East End Pointe aux Trembles riding.
Charbonneau is already well-acquainted with the family ministry, having served as parliamentary secretary to former Liberal family minister Yolande James from 2010-2012. Before entering politics in 2008, she spent the previous decade as a school commissioner with the Commission scolaire de Laval, which she chaired from 2002-2008.
Known for her feisty pragmatism, Charbonneau last year warned the National Assembly that the Parti Québécois obsession with French was giving the highly bilingual graduates of Quebec's English school boards a paradoxical advantage in the job market. Her remarks helped to force former premier Pauline Marois' to withdraw draconian language legislation known as Bill 14.
"Coercion simply isn't the best way to get people to want to learn a language and preserve a culture," she told fellow legislators. "Neither is stripping away rights. If you're English, you have less rights than if you're French. That's not a very tolerant set of values."
"Quebec has always been a place that attracts people," she later told The Suburban in an interview. "I see that in the diversity that I witness here [in Laval] every day."
Laval Mayor Marc Demers welcomed Charbonneau's appointment to represent Laval.
"Ms. Charbonneau knows the region's issues well and she seems to be a results-oriented, honest broker," the mayor said in a statement.
Three other Laval MNAs also received parliamentary appointments last week.
Guy Ouellette (Chomedey) will serve as parliamentary secretary to Public Safety Minister Lise Thériault, where the former Sûreté du Québec sergeant and an expert on Quebec's motorcycle gangs will now play a pivotal role in cleaning up the public service.
Jean Rousselle (Vimont) was tapped as parliamentary secretary to Municipal Affairs Minister Pierre Moreau.
Finally, Saul Polo (Laval des Rapides) will work with Export Minister Jacques Daoust to support the province's foreign trade.
Francine Charbonneau
(Photo © Robert Frank)