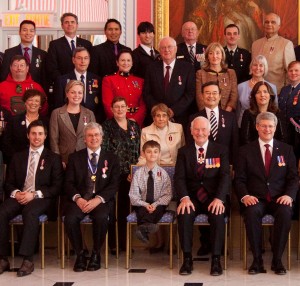 By Robert Frank
www.thesuburban.com
Royal Canadian Legion Branch 251 will jump and hop to a rock'n'roll beat, starting at 8 p.m., May 3.
This year, the Chomedey Legion plans to donate all the profits from its annual spring dance to the Children's Wish Foundation.
"Each year, the dance sells out, so we decided for the first time to donate the money to help sick children," Branch 251 spokesman Gilles Deschambeault told The Suburban.
The Children's Wish Foundation, which will celebrate its 30th anniversary this year, helps youngsters who suffer from serious, often life-threatening illnesses. Since 1984, it has helped make the wishes of more than 20,000 sick kids come true.
The Legion has booked North Shore rock'n'roll band Les Voisins to perform at next week's dance bash, Deschambeault said.
"Tickets cost $10," he added. "It's always a full house, so it's best to book early to get one of the 80 tickets that are available.
More information is available directly from the Chomedey Legion by dialling [450] 681-6722 between 2 p.m.-9 p.m., seven days a week.
The charity is always well-received on Île Jésus and has long received strong support from the local business community. Laval resident and Uni-Select Canada vice-president Michel Charbonneau has, since 2008, served as a volunteer member of the Children's Wish advisory board for Western Quebec.
Bryden Hutt (front and centre) who was diagnosed with a severe immune system disorder called Omenn syndrome, was five years old when Children's Wish Foundation granted his wish to go to Disneyland. He later started worked as a volunteer for the organization. In recognition of his work, Governor General David Johnston arranged for Hutt to be among the first 60 Canadians to receive the Queen Elizabeth II Diamond Jubilee Medal, Feb. 6, 2012, when he was nine years old.