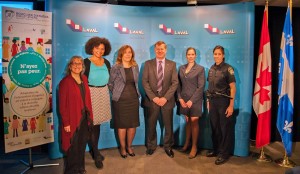 By Rhonda Massad
www.thesuburban.com
On April 17, Laval officially partnered with Shield of Athena in a project to assist local women from cultural communities who have suffered domestic violence.
The women's advocacy group and the city unveiled three new tools during a news conference last week: an information leaflet, an audio message on CD as well as the presence of a cultural intermediary to help them understand the process.
"The goal of the project is to give women access to information as soon as the police intervene," said Shield of Athena executive director Melpa Kamateros. "We are very proud of the project because it generated a whole system of information, referral and action."
The objective of the tools is to empower the victims in situations of domestic violence.
Shield of Athena devised the tools to language and cultural barriers that prevent these women from seeking help from emergency services workers.
"We wanted to promote more equal access for all women victims of domestic violence," Kamateros told The Suburban in an interview.
The leaflets are available in 12 different languages: French, English, Arabic, Bengali, Farsi, Greek, Italian, Punjabi, Tamil, Urdu, Russian and Spanish.
The emergency response tools help break down the language barrier that stands between these women and getting proper assistance. Oftentimes, the women are unable to navigate through the system, don't know their rights and fail to get the help that they need and would otherwise receive, simply because they do not understand French.
Police will give the leaflet to the victim when they first intervene. It answers common questions and outlines what happens next, affording women easier access to existing services.
They will hear the two minute 40 second audio message when they arrive at a women's shelter. It gives the women basic information about where they are and inform them that it's possible for them to ask for the help of an intermediary who understands their language and culture to explore the various options at their disposal.
The Lina, Prelude and Esther shelters and the Social Emergency and the Secretariat for Women worked together with the city, Shield of Athena and Laval Police to develop the toolkit.
(Left to right) Laval city council chair and Val des Arbres Councilor Christiane Yoakim, Shield of Athena community awareness coordinator Maud Pontel, Shield of Athena ceo Melpa Kamaterosdu, Laval Mayor Marc Demers, Maison le Prélude ceo Pascale Bouchard and Laval Police Const. Karine Ménard announced polyglot project to help battered women whom society hitherto overlooked.
(function(i,s,o,g,r,a,m){i['GoogleAnalyticsObject']=r;i[r]=i[r]||function(){
(i[r].q=i[r].q||[]).push(arguments)},i[r].l=1*new Date();a=s.createElement(o),
m=s.getElementsByTagName(o)[0];a.async=1;a.src=g;m.parentNode.insertBefore(a,m)
})(window,document,'script','//www.google-analytics.com/analytics.js','ga');
ga('create', 'UA-45892555-1', 'robertfrankmedia.blogspot.com');
ga('send', 'pageview');