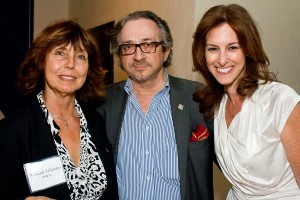 By Rhonda Massad
www.thesuburban.com
Excitement is building for the fifth annual West Island Citizen Advocacy (WICA) wine tasting fundraiser, In the Spirit of Advocacy. The event will take place on Wednesday, April 23, at 6:30 p.m. at Sarto Desnoyers Community Centre in Dorval.
The event will feature an Argentinean theme. Singers, dancers and the wine itself are all of Argentinean origin.
This year, for the first time ever, Frank Lyman of Frank Lyman Design will act as honorary chairman for the event. Fashions will be modeled throughout the evening and available for catalogue purchase.
Also on the roster is well known sommelier Jack Grimaudo of the Europea restaurant and wine importer AMG.
The event will include a live auction as well as a silent auction, allowing guests to bid on items such as restaurant gift certificates including one worth $200 for the celebrated Maison Boulud at the historic Ritz-Carlton Montreal.
Hockey fans take note: a signed jersey by former Hab Maxim Lapierre and a Montreal hockey stick signed by the 2013-2014 team will also be on the auction block.
In an interview with The Suburban, WICA ceo Mary Clare Tanguay explained that the event is one of two major fundraising activities that they do each year. A garden tour in June and the wine tasting event — which typically raises about $20,000. WICA receives one third of its budget from private donors and foundations as well as funding by the provincial government under health and social services.
According to Tanguay WICA's mission is to match up volunteer citizen advocates who work one-to-one or on a team with persons who are handicapped or are disadvantaged in the community. WICA has another division called seniors advocacy geared specifically to defend seniors' rights—they helped more than 100 people last year alone.
"This year the money raised at the wine tasting will have to go to the matching program where we are lacking funds," Tanguay said, "with 170 people on the waiting list, 131 of whom are seniors, fundraising is important because more money means more matches."
Tickets are $95 with a partial tax receipt. For more information, call [514] 694-5850 or visit the West Island Citizen Advocacy Facebook page.
(Left to right) WICA community worker Yolande Ghirotto with The Suburban editor-in-chief Beryl Wajsman and lawyer and community activist Brigitte Garceau.
(function(i,s,o,g,r,a,m){i['GoogleAnalyticsObject']=r;i[r]=i[r]||function(){
(i[r].q=i[r].q||[]).push(arguments)},i[r].l=1*new Date();a=s.createElement(o),
m=s.getElementsByTagName(o)[0];a.async=1;a.src=g;m.parentNode.insertBefore(a,m)
})(window,document,'script','//www.google-analytics.com/analytics.js','ga');
ga('create', 'UA-45892555-1', 'robertfrankmedia.blogspot.com');
ga('send', 'pageview');