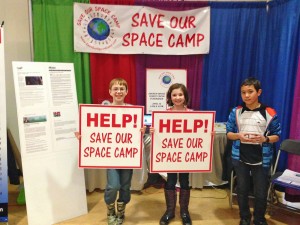 By Rhonda Massad
www.thesuburban.com
Students from four Edmonton-area schools are still trying to get to space camp in Laval, after their travel agent went bust last month. With the bankruptcy went the quarter million dollars that students had already paid for their trip to Laval's Cosmodome, which runs the only NASA space camp in Canada.
With five weeks to go until departure, 71 Grade 5 and 6 students and 22 chaperones from four schools in St. Albert, an Edmonton suburb, began last-ditch fundraising to try to save their trip.
For most of the children it would have been their first trip away without their parents, most of whom had been saving for the $2,300 trip for more than a year.
"We realized that there was a problem when we stopped receiving replies to our e-mails in early March," Heather Kemp told The Suburban in an interview.
After the initial shock, another parent, Shana Dahl, joined with other parents to found Save our Space Camp.
According to Kemp, who co-chairs the group, the community overflowed with generosity.
She also praised Cosmodome's effort to limit the space camp's cost by offering a discount.
"We have also tried to be as flexible as possible with the deadlines," Cosmodome reservation agent Christel Mucci told The Suburban.
Kemp added that Air Canada has pitched in by reducing its fares and extending its deadlines.
In the meantime, Save our Space Camp's fundraising efforts have made rapid progress. The group has already raised $100,000. Since some students dropped out from the trip, the discounts left them just $30,000 short of their new goal, when this week's edition of The Suburban went to press.
"We really appreciate the support that we are getting, from our community as well as [the destinations on our itinerary] Ottawa, Quebec City, Montreal, and Laval," Dahl said. "It has been absolutely amazing how Canadians across Canada are pulling together to send these 71 students on this extraordinary cultural and educational experience-of-a-lifetime."
Laval or bust!
(Left to right) Brennan Dahl, Abby and Carsen Der are three of 71 Alberta elementary students who are fundraising to get to space camp at Laval's Cosmodome, after their travel agent went bankrupt last month, taking with it $228,000 that their parents had paid for the trip.