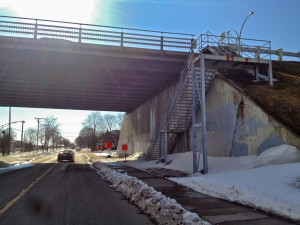 By Rhonda Massad
www.thesuburban.com
Pointe Claire has confirmed that it will spend $3.7 million this summer to repair the overpass on St. John over Donegani.
The structure, which spans Canadian National and Canadian Pacific railway tracks and Donegani Avenue, will be overhauled from March 31 until Aug. 31.
"Negotiations with CN and CP railways took place to decide what parts of the structure were to be altered" assistant to the Pointe Claire city manager Antonella Dimarino told The Suburban in a telephone interview, "as well as when the work would take place as it could impact travel beneath the structure."
The major refurbishment, which went out for bid tenders in 2013, will cost Pointe Claire taxpayers $3.7 million. The railways companies are not paying for any of the repairs, according to Dimarino.
The frame of the structure is sound and will be retained, she reassured. However, certain concrete elements, exterior walls, sidewalks, slab transitions, the deck and the road will be completely redone. In addition, all steel surfaces and support elements will be repainted.
On July 6, 2012, the overpass released a baseball-sized chunk of concrete from St. John Boulevard onto Donegani Avenue below. No one was injured in the incident. Contractors made emergency repairs to prevent concrete from falling again.
The $3.7 million price tag for fixing the Donegani overpass has multiplied two-and-a-half times since former Mayor Bill McMurchie announced that the St. John viaduct would be repaired in 2012 for $1.5 million. Last year, Pointe Claire set aside $2.2 million for the project.
(Photo © Rhonda Massad)
(function(i,s,o,g,r,a,m){i['GoogleAnalyticsObject']=r;i[r]=i[r]||function(){
(i[r].q=i[r].q||[]).push(arguments)},i[r].l=1*new Date();a=s.createElement(o),
m=s.getElementsByTagName(o)[0];a.async=1;a.src=g;m.parentNode.insertBefore(a,m)
})(window,document,'script','//www.google-analytics.com/analytics.js','ga');
ga('create', 'UA-45892555-1', 'robertfrankmedia.blogspot.com');
ga('send', 'pageview');