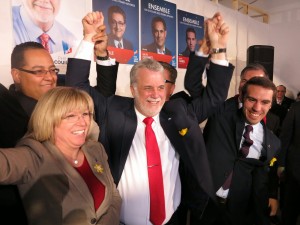 By Robert Frank
www.thesuburban.com
Laval voters expressed their usual knack for picking a winner, Monday night, as they pushed the Parti québécois out of every National Assembly seat on Île Jésus.
"We need a Quebec that includes all Quebecers," premier-elect Philippe Couillard declared when he visited Laval on Friday, "where you can be chez vous instead of chez nous."
Jubilant candidates and campaign staff at the end of the electoral battle contrasted starkly with the Liberals' funereal news conference at the outset of the campaign a month ago.
"We're pleased to send Léo Bureau-Blouin back to university," said returning Chomedey MNA and Laval Liberal caucus chair Guy Ouellette.
"On Saturday, March 29, [outgoing Premier Pauline Marois] turned 65 years old, so she can take her retirement pension," he quipped to an campaign headquarters packed with Liberal faithful.
"Laval is Quebec's third-largest city with some 420,000 people," he told The Suburban in an interview. "It wasn't well represented by the Parti québecois government. It was a mess. With just two PQ MNAs and a Péquiste minister responsible for Laval who doesn't even live here, all they paid attention to was their ridings."
"Starting tomorrow, the Laval caucus will start rebuilding," he smiled, "and now we will have the ear of the Premier."
Laval united to send all six Liberal candidates to Quebec City on election night, under Dr. Philippe Couillard (centre), who visited Laval on Friday to convey his vision of a Quebec that includes all of its citizens. With him (left to right) Saul Polo (Laval des Rapides), Francine Charbonneau (Mille Îles) and Jean Habel (Sainte Rose). In back are Jean Rousselle (Vimont) and Laval Liberal caucus chair Guy Ouellette (Chomedey).
(Photo © Robert Frank)
Laval Liberal candidates' exuberance on election night, April 7, contrasted starkly with their funereal March 12 news conference at the outset of the election campaign.
(Photo © Robert Frank)
(function(i,s,o,g,r,a,m){i['GoogleAnalyticsObject']=r;i[r]=i[r]||function(){
(i[r].q=i[r].q||[]).push(arguments)},i[r].l=1*new Date();a=s.createElement(o),
m=s.getElementsByTagName(o)[0];a.async=1;a.src=g;m.parentNode.insertBefore(a,m)
})(window,document,'script','//www.google-analytics.com/analytics.js','ga');
ga('create', 'UA-45892555-1', 'robertfrankmedia.blogspot.com');
ga('send', 'pageview');