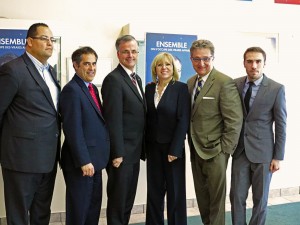 By Robert Frank
www.thesuburban.com
"All six Quebec Liberal Party candidates live in Laval," Chomedey MNA Guy Ouellette reminded reporters during a news conference last week to kick off the provincial election campaign. The remark took aim at high-profile candidates whom the Parti québécois has parachuted in to run in Laval ridings.
Together with Jean Rousselle (Vimont), Gilles Ouimet (Fabre) and Francine Charbonneau (Mille Îles), all four Laval Liberal MNAs will be running for re-election this year.
They will be joined in this year's race by Liberal party president Saul Polo (Laval des Rapides) and financial analyst Jean Habel (Ste. Rose).
Ouellette contrasted his party's stewardship of the Quebec economy with the Parti québécois ambition to hold another independence referendum.
Polo underscored the government's persistent budget deficit and the 66,800 jobs that the province shed in 2013.
Though none of the candidates specifically mentioned the Parti québécois' proposed values charter, Charbonneau referred to it obliquely.
"Since the PQ government has been in place, it has chosen to focus on elements which divide the population," she said.
Rousselle questioned Premier Pauline Marios' transparency and integrity.
"The official opposition adopted a motion in which the premier and her husband were asked to testify at a corruption inquiry," Rousselle said.
He reminding that motion called upon the couple to testify under oath before the Charbonneau Commission, March 10, to answer questions about wiretap evidence "revealing a deal between her husband and then-Fonds de solidarité president Michel Arseneault:
"The election call killed this obligation and allowed them to avoid testifying," he protested. "This is the same party which promised integrity and transparency."
Ouellette suggested that Marois' election call was an expedient which violated her government's own law to set fixed dates for provincial elections.
Solving constituents' flood-zones woes and public transit will be a priority in Fabre riding, Ouimet promised.
The news conference coincided with pleas by the head of oncology at the Jewish General Hospital for the provincial government to relent on its plan to regionalize cancer treatment, starting April 1.
Ouellette responded that patients ought to be able to continue to seek treatment wherever they wish in Quebec.
Left to right: Saul Polo (Laval des Rapides), Gilles Ouimet (Fabre), Guy Ouellette (Chomedey), Francine Charbonneau (Mille Îles), Jean Rousselle (Vimont) and Jean Habel (Ste. Rose).
(Photo © Robert Frank)