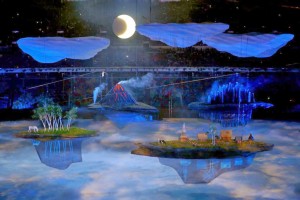 By Robert Frank
www.thesuburban.com
Hot on the heels of Show Canada's triumph staging the Winter Olympics opening ceremonies in Russia, general manager Pierre Marchand is heading off to Brazil to pitch a preliminary contract to develop concepts for the 2016 Olympic Games in Rio de Janeiro.
"Our job is to provide the scenic elements for an artistic director or producer," he told The Suburban in an interview. "We're not in the forefront of the show. We're playing with toys in the background."
Show Canada, which employs some 150 workers in Laval, has been on a roll since its performance at the Vancouver Winter Olympics.
"Sochi was our biggest contract so far," Marchand said. "We're mainly an export company—80 percent of our business is done outside the country. Vancouver brought us to London. London brought us to Sochi—and now Sochi might bring us to Rio."
He credits the city's business development agency Laval Technopole helping to cut through bureaucratic red tape to make the Sochi success possible.
"It is quite complex to set foot in Russia with the intention to work there," Marchand said. "Technopole helped us to navigate the visa process, which for Canadians was quite complex."
Technopole also helped the company relocate in 2005, to a unique new purpose-built building in St. Vincent du Paul.
"Our core staff needed to be within easy commuting distance plus we needed the right mix of affordability, construction and space," Marchand explained. "With a 60,000 sq.ft. footprint, we have the highest-volume building in Laval and East End Montreal, with 70 ft. of open interior space overhead.
The company also briefly had a West Island presence. It rented space in the former Dominion Bridge plant in Lachine to assemble, test and disassemble its Sochi backdrops.
"We sent 154 forty-foot shipping containers to Sochi," he recalled, "and chartered cargo 747 jumbo jets. It was one of the single-biggest maritime contracts our freight forwarder has handled in Montreal."
What's the secret of the Laval company's success?
"It's not what we do, it's how we do it," Marchand said. "They hire us because we have the entrepreneurial skill coupled with the will to deliver on-time, on-budget. That's why they hire us."
"When you host the Olympics, you invest in the opening ceremony because your country is making a statement," Marchand concluded. "The entire world is watching, and you want to be seen at your best."
He noted that Show Canada was not associated with the Olympic ring props that failed to open during the opening ceremonies.

Despite its low local profile, Laval impresario Show Canada is a giant on the world stage, after developing and building backdrops for successive Olympics, like the Sochi opening ceremonies depicted here.