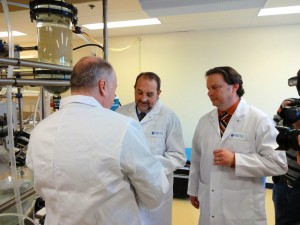 By Robert Frank
www.thesuburban.com
Quebec has followed the federal government's lead in furnishing financial support to Orbit Aluminæ.
Last week, it announced that Investissement Québec (IQ) would sink $10 million into an equity stake in Orbite.
The company has developed technology at its Laval laboratory that permits it to produce high-grade alumina—as well as rare earths and rare metals—without generating toxic red mud that has long been the bane of traditional aluminum manufacturing.
Last month, The Suburban reported that the federal government granted the firm $4 million to invest in the company's aluminum production facilities in Cap Chat, Quebec.
In addition to permitting Orbite to create some 50 jobs at its facility in Cap Chat, in the Gaspé region of Quebec, the project will create two-to-three new jobs at the firm's Laval research facility.
"The significant contribution from the government of Québec, following a stringent independent review, is a testament to the work carried out by our new management and engineering team during the last six months", said Glenn Kelly in a statement.
Two weeks before the announcement, Orbite promoted Kelley to run the company as its president and chief executive officer. He previously held the post of executive vice-president and chief operating officer.
"We are honoured to have the government of Quebec as a major shareholder in Orbite and their investment will be used towards the completion of our HPA production facility," he said.
(Left to right) Orbite Aluminæ president Glenn Kelly shows Conservative cabinet minister Denis Lebel the environment-friendly alumina production process that it has developed at its Laval laboratory. Lebel visited Laval, Jan. 30, to announce federal financial assistance for Orbite to use its unique technology to start large-scale production at its plant in Cap Chat, Quebec.
(function(i,s,o,g,r,a,m){i['GoogleAnalyticsObject']=r;i[r]=i[r]||function(){
(i[r].q=i[r].q||[]).push(arguments)},i[r].l=1*new Date();a=s.createElement(o),
m=s.getElementsByTagName(o)[0];a.async=1;a.src=g;m.parentNode.insertBefore(a,m)
})(window,document,'script','//www.google-analytics.com/analytics.js','ga');
ga('create', 'UA-45892555-1', 'robertfrankmedia.blogspot.com');
ga('send', 'pageview');