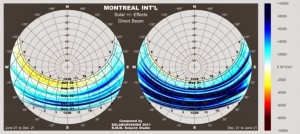 By Tracey Arial
Changing the orientation of a building just sixty degrees can improve safety by reducing the amount of ice falling on pedestrians, cut heating and cooling costs, limit the need for snow-clearing in the winter and lessen how hot an urban neighbourhood feels in the summer.
So says Mojtaba Samimi, an Iranian expert in solar and climactic analysis who has consulted with companies around the world.
Samimi says similar results can be obtained by selecting the correct shading for a building, installing reflecting devices in key locations and otherwise taking advantage of the sun's position in all seasons when designing a project.
Samimi operates the R.M.M. Solarch Studio studio in Montreal and he's spent significant time analyzing Montreal's climate to come up with ways the new building developers can lessen the negative impacts of their projects on existing neighourhoods.
He has attended several public consultations recently to show how his analysis changes the project designs.
His reports recommend changing the orientation of the new school on Nun's Island, setting up solar reflectors to limit the shading of proposed high-rise buildings south-east of the Bell Centre and considering the sun in all future development projects.
Check out Samimi's reports at:
http://ocpm.qc.ca/sites/ocpm.qc.ca/files/pdf/P72/8a4.pdf, http://ocpm.qc.ca/sites/ocpm.qc.ca/files/pdf/P72/8a4a.pdf, and http://ocpm.qc.ca/sites/ocpm.qc.ca/files/pdf/P70/9a20.pdf.
Refer to his website at http://solarchvision.com/.
(function(i,s,o,g,r,a,m){i['GoogleAnalyticsObject']=r;i[r]=i[r]||function(){
(i[r].q=i[r].q||[]).push(arguments)},i[r].l=1*new Date();a=s.createElement(o),
m=s.getElementsByTagName(o)[0];a.async=1;a.src=g;m.parentNode.insertBefore(a,m)
})(window,document,'script','//www.google-analytics.com/analytics.js','ga');
ga('create', 'UA-45892555-1', 'robertfrankmedia.blogspot.com');
ga('send', 'pageview');