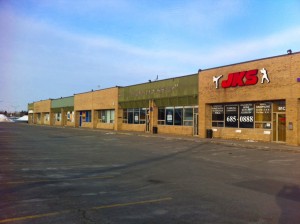 By Rhonda Massad
www.thesuburban.com
Businesspeople in Dollard des Ormeaux will soon get some relief from the city's restrictive and expensive sign rules.
Mayor Ed Janiszewski told The Suburban in an interview that city council will review DDO's commercial sign bylaws to make them more responsive to local businesses' needs.
City council signalled its intention at a recent meeting. It used its discretion to unanimously approve an exemption to its sign law to a business that plans to set up at 61 Brunswick. The exemption will let the owner disregard the city's existing law and put up a sign that will be much more visible from the street.
Dollard planning officer Steven Donohue explained that the bylaw currently limits all business signs to 100 sq.ft. The exemption will allow the sign to be four times that size.
Currently, owners have to apply for exemptions on a case-by-case basis. Each exemption request costs a business owner about $1,000. The city uses part of the fee to advertise to notify the public of the exemption request.
According to Mayor Ed Janiszewski, the time has come to bring DDO in line with other West Island municipalities and make putting up a commercial sign less onerous.
"We have had very restrictive commercial and industrial sign bylaws and are looking at updating our sign rules, which were unduly conservative" he explained. "We have to keep in line with [other cities in] the area." "It will be beneficial to our businesses and we want to be good corporate friends," he added. "This will afford them more visibility
so they can survive and pay their taxes." Business owner Stewart Trapid of Tras Office Solutions welcomed the relief from city inspectors who during the past 12 years have repeatedly fined him for sign law violations. Each infraction cost him $1,400 for the banner that he uses to promote his business.
"While I appreciate that the city is careful to prevent the area from becoming an eyesore, I welcome the review," he told The Suburban.
Brunswick Boulevard business will get to put up sign big enough to be read from the street—four times the size the current bylaw allows.
(function(i,s,o,g,r,a,m){i['GoogleAnalyticsObject']=r;i[r]=i[r]||function(){
(i[r].q=i[r].q||[]).push(arguments)},i[r].l=1*new Date();a=s.createElement(o),
m=s.getElementsByTagName(o)[0];a.async=1;a.src=g;m.parentNode.insertBefore(a,m)
})(window,document,'script','//www.google-analytics.com/analytics.js','ga');
ga('create', 'UA-45892555-1', 'robertfrankmedia.blogspot.com');
ga('send', 'pageview');