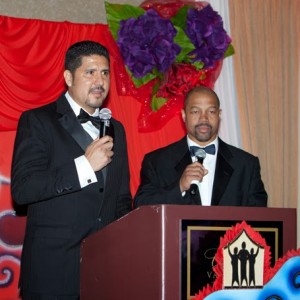 By Rhonda Massad
www.thesuburban.com
"For the Love of Life" was the theme of this year's Valentine's Gala of the West Island Palliative Care Residence, the organization's largest annual fundraising event, held on Feb. 15 at the Pavilion of the Château Vaudreuil hotel. The event raised over $340,000 toward the $3 million gap in the residence's budget not covered by the Quebec government.
More than 500 guests enjoyed a Moulin Rouge-themed décor which had them walking through scenes from the Paris cabaret.
VIP guests included Quebec filmmaker Jean-Marc Vallée, Dr. Louis Hugo Francescutti, president of the Canadian Medical Association, retired Alouette quarterback Anthony Calvillo , former Canadian heavyweight champion boxer George Chuvalo, former world WBO middleweight boxing champion Otis Grant and former NFL lineman Alvin Powell.
Gavin Fernandes, husband of residence executive director and co-founder Teresa Dellar brought the room to tears when he spoke about his experience during the past year in seeing the residence from the point of view of a patient's family, as his sister succumbed to cancer. After reading a poem entitled Tears, which Fernandes wrote about his experience, master of ceremonies Ross Paperman called for attendees to become "guardian angels" of the residence by donating $1,000. Fifty-five people came forward, along with an additional four first-time "archangels", who donating $5,000 each.
Longtime residence supporter Tom Patterson, who won the raffle for two business-class tickets to Zurich donated by Swiss International Air Lines, turned his good fortune into another display of generosity. He announced that he would be giving away the prize in a raffle to be drawn among the residence's nurses.
The West Island Palliative Care Residence is a non-profit institution, accredited by the Quebec government to provide palliative care health services. Opened in 2002 with nine beds, a 2012 expansion increased its capacity to 23 beds, making it the largest freestanding palliative care residence in Canada.
Retired Alouette quarterback Anthony Calvillo (left) and former World Boxing Organization middleweight champion Otis Grant were among the bright lights who turned out to help raise more than $340,000, Feb. 15.