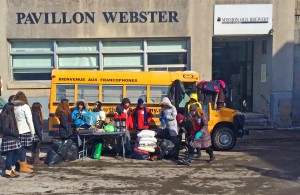 By Gabrielle Fahmy
www.thesuburban.com
Students of North Star Academy Laval headed downtown last Wednesday to help the homeless.
Twelve students from Grades 7, 8 and 9, along with staff members, boarded a school bus that was stocked with food, clothes and supplies and went out looking for people in need.
It was a student who came up with the idea.
Aiden Wagner, who is in Grade 8, said he was inspired while watching videos on YouTube at home.
"I thought it was a really good idea because after Christmas, no one is picking up clothes for the homeless anymore," says Aiden.
"So just to tell them that we're still here, I decided to ask the principal and the secretary if we could do something like this."
It didn't take long before the school was on board with the idea.
"I believe that if my students want to do something that's really good, I'll do everything I can to make it happen," said principal Josée Pepin, noting that these are the coldest months of the year and that we sometimes forget about giving after the holidays.
The students ended up setting shop in front of the Old Brewery Mission, where they handed goods to those who came by. Riwa Jaafar, also in Grade 8, was involved in the idea from the beginning.
"We've been preparing, packing stuff for them, clothes, jackets for men, women, little kids," said Riwa. "We've brought little snacks for them, drinks, coffee, hot chocolate, and timbits. They may be small but they definitely mean a lot to them.''
"The students did everything themselves,'' said Pepin. "I'm very impressed and humbled."
Pepin said this would mark the beginning of a new tradition for the school, with plans to repeat the initiative every year sometime around Valentine's Day.
Students from North Start Academy Laval set up outside the Old Brewery Mission on Clarke Street, moments before it got busy.
(Photo © Gabrielle Fahmy)
(function(i,s,o,g,r,a,m){i['GoogleAnalyticsObject']=r;i[r]=i[r]||function(){
(i[r].q=i[r].q||[]).push(arguments)},i[r].l=1*new Date();a=s.createElement(o),
m=s.getElementsByTagName(o)[0];a.async=1;a.src=g;m.parentNode.insertBefore(a,m)
})(window,document,'script','//www.google-analytics.com/analytics.js','ga');
ga('create', 'UA-45892555-1', 'robertfrankmedia.blogspot.com');
ga('send', 'pageview');