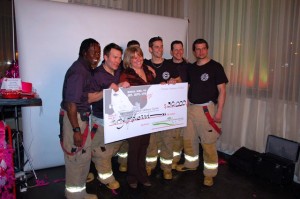 By Rhonda Massad
www.thesuburban.com
The West Island Cancer Wellness Centre will hold its 4th annual Eat Love Live ladies-only fundraiser in Dollard des Ormeaux at Towne Hall Restaurant at 6 p.m., Feb. 16.
Debbie Magwood and Jill Boileau, who founded the organization in 2009, said that it aims to empower people with cancer by providing them with compassionate support and comprehensive information for mind, body, and spirit.
For each year of the past four years, women gathered without their men to enjoy a fun-filled night of music, tarot-card reading, palm reading and all things feminine.
During that time, they have raised close to $120,000 for programs that promote cancer patient wellness, by addressing their emotional, psychological, social and spiritual.
The high point is when the evening's raffle tickets and auction are handled by West Island firefighters. This year, the event will be held just in time for Valentine's Day celebrations.
This is an event that offers women a night to be pampered, enjoy each other's company and, most importantly, honor and raise money for a much-needed cause. Visit the West Island Cancer Wellness Centre online at www.wicwc.org for tickets.
Local firemen join West Island Cancer Wellness Centre founder Debbie Magwood.
(function(i,s,o,g,r,a,m){i['GoogleAnalyticsObject']=r;i[r]=i[r]||function(){
(i[r].q=i[r].q||[]).push(arguments)},i[r].l=1*new Date();a=s.createElement(o),
m=s.getElementsByTagName(o)[0];a.async=1;a.src=g;m.parentNode.insertBefore(a,m)
})(window,document,'script','//www.google-analytics.com/analytics.js','ga');
ga('create', 'UA-45892555-1', 'robertfrankmedia.blogspot.com');
ga('send', 'pageview');