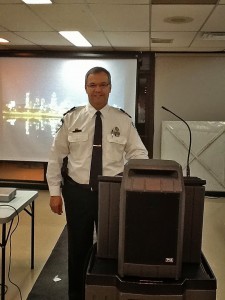 By Rhonda Massad
www.thesuburban.com
In an effort to formulate its 2014 mission statement, the Police Station 1 went straight to the public for input. On Jan. 28, more than two-dozen Beaconsfielders filled the Herb Linder room at Beaconsfield City Hall to hear what the officers had to say.
The goal of the evening was to demystify what the officers do and get closer to the communities that the police serve. They wanted to hear from the people and did just that.
The initial presentation detailed the 9-1-1 call-centre, which triages all incoming calls, including those reporting non-critical events. The aim was to dispel the culture of "I don't want to bother the call centre unless it is a true emergency", according to Kirkland Station 1 Commander Richard Thouin.
"We need the public to participate by giving us all the information that they can regarding crimes or possible crimes that take place around them," he urged. "Obviously the mandate of the police is to ensure our security first and foremost but citizens need to take responsibility as well."
"The best way to help the police to do their job is to report your observations to 9-1-1 and let the call centre decide where to triage your call," Cdr. Thouin said.
Community relations officer Const. Roberto Del Papa offered some advice for 9-1-1 callers.
"Breathe, remain calm and identify your location, if you are on a cellular phone," he said. "Give clear details to the operator so your call can be properly prioritized."
A round table discussion ensued with 25 citizens and six police officers all seated together.
Residents gave their input and officers responded directly in a relaxed, open forum. Issues such as traffic, the overtaxed Woodland intersection, vandalism and theft were citizens' main concerns.
The Montreal police service patrols the entire Island of Montreal, Dorval Island and Île Bizard, an area of 496 km2. Some 4,600 police officers and 1,800 civilian support staff serve the area's 1.8 million nearly residents.
(function(i,s,o,g,r,a,m){i['GoogleAnalyticsObject']=r;i[r]=i[r]||function(){
(i[r].q=i[r].q||[]).push(arguments)},i[r].l=1*new Date();a=s.createElement(o),
m=s.getElementsByTagName(o)[0];a.async=1;a.src=g;m.parentNode.insertBefore(a,m)
})(window,document,'script','//www.google-analytics.com/analytics.js','ga');
ga('create', 'UA-45892555-1', 'robertfrankmedia.blogspot.com');
ga('send', 'pageview');
Kirkland Station 1 Commander Richard Thouin