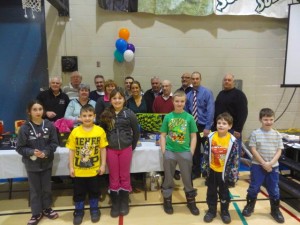 By Rhonda Massad
www.thesuburban.com
Kirkland residents turned out in strength for the town's annual carnival last weekend.
Hundreds of winter revelers showed up to enjoy the Jan. 30 kickoff event for the town's winter festival: The Amazing Survivor Factor Race—an indoor-outdoor challenge that combined mountain climbing, an obstacle course, sledding and food-fearing relay race, where you have to eat something creepy.
A family bingo night attracted more than 300 players from kids to adults to compete for a chance to win prizes. City Councilor John Morson called out the numbers with Mayor Michel Gibson on hand to verify the winning bingo cards .
Family day, another well-attended event, including face painting, sleigh rides and inflatable games. Montreal Radio Q92 The Beat of Montreal, was on hand to provide live coverage.
A family carnival supper closed off the festivities, Feb. 2, with a Caribbean cruise-themed dinner, with a cruise provided by official carnival sponsor Zodiac Aerospace as the grand prize.
Kirkland transformed its sports complex gymnasium into a Caribbean port-of-call for the international-themed buffet, supplemented by theme music and entertainment. Kirkland recreation and library director Mike Klaiman told The Suburban that he was very encouraged by the community's enthusiasm for this year's carnival.
"Community is what it is all about," he said. "The carnival was a success"
Kirkland Council members join revellers at annual winter carnival

(function(i,s,o,g,r,a,m){i['GoogleAnalyticsObject']=r;i[r]=i[r]||function(){
(i[r].q=i[r].q||[]).push(arguments)},i[r].l=1*new Date();a=s.createElement(o),
m=s.getElementsByTagName(o)[0];a.async=1;a.src=g;m.parentNode.insertBefore(a,m)
})(window,document,'script','//www.google-analytics.com/analytics.js','ga');
ga('create', 'UA-45892555-1', 'robertfrankmedia.blogspot.com');
ga('send', 'pageview');