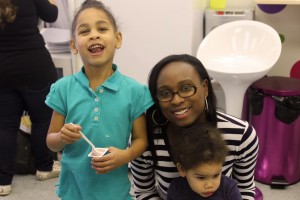 Rapidly growing group fills immense void for young mothers
By Robert Frank
www.thesuburban.com
Dawn Xavier had no idea what a huge gap she was filling when she started a meetup.com group for other local stay-at-home moms, June 5.
"I was really looking to make some friends and it just exploded into something else," the Duvernay resident told The Suburban.
"Necessity is the mother of all invention," she explained. "I came here from the Caribbean nine years ago and didn't feel like part of the community. My kids didn't have friends to invite to parties. So I went out and started a group on meetups.com. I hoped to meet maybe ten people, but I discovered that there were a lot of people who wanted to participate in activities with me."
The group has succeeded in organizing many activities that, until now, were simply unavailable in English in Laval.
"We don't want to drive to Montreal any more and get trapped on the highway at 4 p.m. There are lots of great businesses here in Laval whom we like to work with who can offer the services in English," Xavier explained. "I approach them and tell them that our moms are interested in doing this activity, if it can be conducted in English. In return, they don't have to do any advertising. I see the opportunity and connect the two."
"Because we're a group, we're also able to negotiate an attractive price," she added. "Many of our activities are low-cost or no-cost, because many of our members have skills that they can share with us.
"For example, our upcoming baby massage class, Jan. 23, is free," she enthused. The class proved so popular, that all 10 spots are already filled, with more moms on the waiting list.
"Once a month we hold Mom's Night Out on a Saturday night," Xavier said. "Mondays is New-Mommy Mingle. It's a partnership with Club Enfant Fiesta in Sainte Dorothée for mothers of babies under 12 months. Wednesdays at 8:30 p.m. is Yoga at Centre du Sablon in Chomedey. We start it late in order to give you time to put your kids to bed. Wednesday is Mommy and Me Zumba with the kids starting up on Jan. 30 at Studio Fit in Sainte Dorothée. We also have Chicki-Todds on Wednesdays. It's another play group for kids of different ages. We hold a knitting circle every Thursday. We will be doing splatter painting our Arty Party at the 4Cats Studio in Vimont, Jan. 25."
Moms who are interested in joining the group can find out more on the group's Facebook page and sign up at www.meetup.com/EML-English-Speaking-Moms-of-Laval
Xavier emphasized that it's important for prospective participants to bring an open mind to the social group.
"The number one thing is not to be judgmental," she said. "We were all raised differently and we're all raising our children differently."
Here, there and everywhere
Members live all over Laval, Xavier said, and range as far north as the lower Laurentians.
"We hold many of our activities in Chomedey because it is central and easy to reach by highway, but we have also held activities with our members who live in Sainte Adèle and St. Jérôme."
Xavier hasn't forgotten fathers, either.
"We can't expect moms who haven't seen their husbands all week to leave them at home on the weekend," she said, "so dads can come to our weekend activities like our upcoming splatter painting."
English-Speaking Moms of Laval and the North Shore is also open to expecting mothers.
"They get a real deal at babycenter.com and all sorts of other Internet mom blogs," Xavier said. "It's really about moms helping other moms, though—giving referrals and support. They can find out what to expect when they're expecting. Referrals when they need to find a pediatrician. Which hospital did you give birth at?"
"One of our members said that it's so difficult and stressful once you have this new person in your life that it's important to have a good support system," she recalled. "If you're not sleeping and you meet another person who isn't, you find out that you're not alone, and if you're expecting, it can give you a heads-up."
English-Speaking Moms of Laval and the North Shore founder Dawn Xavier (centre) joins her daughters Amélie (left) and Sophie (right) at at the Wednesday-evening Chicki-Todds playgroup.
(function(i,s,o,g,r,a,m){i['GoogleAnalyticsObject']=r;i[r]=i[r]||function(){
(i[r].q=i[r].q||[]).push(arguments)},i[r].l=1*new Date();a=s.createElement(o),
m=s.getElementsByTagName(o)[0];a.async=1;a.src=g;m.parentNode.insertBefore(a,m)
})(window,document,'script','//www.google-analytics.com/analytics.js','ga');
ga('create', 'UA-45892555-1', 'robertfrankmedia.blogspot.com');
ga('send', 'pageview');