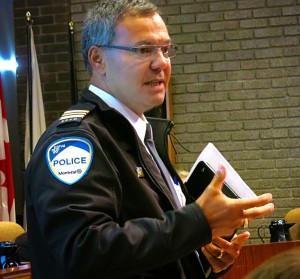 By Robert Frank
www.thesuburban.com
Commander Richard Thouin believes that the residents of the cities that Montreal Police Station 1 serves are his most important allies.
"The closer that we are to the public and the more information that we share, the better we will be able to ensure public security," he told Baie d'Urfé town council last week.
Cmdr. Thouin told the packed council chamber that Station 1 will conduct public consultations in January in Baie d'Urfé, Beaconsfield, Kirkland, Ste. Anne de Bellevue and Senneville.
Town manager and clerk Nathalie Hadida added that the Baie d'Urfé meeting will be held Jan. 28, at a yet to be determined location.
Seniors' concerns on the rise
Station 5, which serves Dorval, Dorval Island and Pointe Clare, already held its public consultations last month.
"We held two events," Cmdr. Mohamed Bouhdid told The Suburban. "We met Nov. 19 with more than a dozen people from community groups like the YMCA, for example, representing seniors, youth."
"Then, Nov. 21, the round table for the southern half of the West Island hosted a citizens' forum," he continued. "Many of our community partners attended, as well as individual citizens. Together with six of my senior officers from Station 5, we answered questions and listened to their concerns."
Cmdr. Bouhdid explained that the meetings helped his station to prioritize its proposed policing plan for 2014.
"It gave us an advantage," he said. "It's good to learn and understand people's concerns, because they often know better than us what is going on in their community. They provide us with more information upon which to base our decisions. It helped to confirm our impressions as well as to learn."
"The plan is not yet completed," Cmdr. Bouhdid added, "but I can tell you that we will probably focus more on seniors' concerns next year."
Results from Statistics Canada's 2011 census, published earlier this year, revealed that the West Island is aging more rapidly than any other Montreal region.
Likewise, Station 3, which serves Île Bizard, Pierrefonds, Roxboro and Ste. Geneviève, consulted community groups last month.
"It's basically working together to minimize risk, to help families understand and integrate into society and to improve road safety," said community relations advisor Kathy van Bronswick, who has helped connect Station 3 with the community for the past four years.
"A lot of organizations have told us what they need from us," she told The Suburban. "It has really helped to improve public security."
Close cooperation with the community helps to prevent crime and improve public safety, according to Montreal Police Station 1 Commander Richard Thouin.
(function(i,s,o,g,r,a,m){i['GoogleAnalyticsObject']=r;i[r]=i[r]||function(){
(i[r].q=i[r].q||[]).push(arguments)},i[r].l=1*new Date();a=s.createElement(o),
m=s.getElementsByTagName(o)[0];a.async=1;a.src=g;m.parentNode.insertBefore(a,m)
})(window,document,'script','//www.google-analytics.com/analytics.js','ga');
ga('create', 'UA-45892555-1', 'robertfrankmedia.blogspot.com');
ga('send', 'pageview');