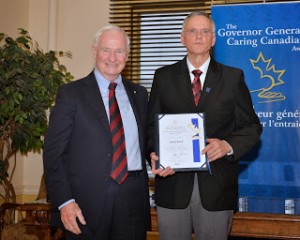 By Robert Frank
www.thesuburban.com
Michel Rivard is one of those people whose kindness makes the world a better place.
Governor General the Rt. Hon. David Johnston singled out Rivard for recognition for having devoted nearly two decades to helping people in the final stages of life.
During a colourful official ceremony in Montreal, Nov. 26, Johnston bestowed the Governor General's Caring Canadian Award to Rivard for his longstanding work with patients at Notre Dame Hospital's palliative care unit.
Since 1994, Rivard has served as a volunteer with the www.PalliAmi.org, a charity that trains members of the public how to support and look out for people's well-being, with dignity, through their final days of life.
"His compassionate listening skills, patience, discretion and natural empathy have afforded him unique experiences with patients," Johnston said in a statement. "He is a man of great talent, and has produced a sculpture, Shock Waves, which depicts the stages of reaction to bad news. His work will be used to publicize a pending exhibition that will benefit the Canadian Cancer Society."
Since 1995, the Governor General's Caring Canadian Award has recognized Canadian citizens and permanent residents who have made a significant, sustained and unpaid contribution to their community, in Canada or abroad.
These individuals often attract little attention, work away from the limelight, offering their spare time to help others.
Johnston noted that selecting these volunteers for recognition helps to set a good example for others to emulate.
"Their compassion and engagement are a part of our Canadian character," he concluded.
The Rt. Hon. David Johnston (left) presented the Governor General's Caring Canadian to Laval resident Michel Rivard for his compassion for helping people through their final days of life.
(function(i,s,o,g,r,a,m){i['GoogleAnalyticsObject']=r;i[r]=i[r]||function(){
(i[r].q=i[r].q||[]).push(arguments)},i[r].l=1*new Date();a=s.createElement(o),
m=s.getElementsByTagName(o)[0];a.async=1;a.src=g;m.parentNode.insertBefore(a,m)
})(window,document,'script','//www.google-analytics.com/analytics.js','ga');
ga('create', 'UA-45892555-1', 'robertfrankmedia.blogspot.com');
ga('send', 'pageview');