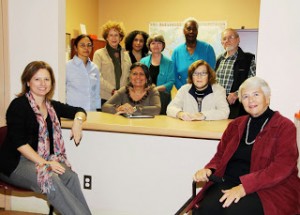 By Maya Jarjour
www.thesuburban.com
The Dollard des Ormeaux Seniors Club officially inaugurated its Seniors Information Office, Nov. 27, during a gathering in the Dollard Community Centre lounge.
"We set up the Seniors Information Office for members because, other than coming to the club for recreational activities, a lot of people are also asking for information like 'How do I get help?' 'My neighbor needs meals on wheels,' 'I need resources for some home care,' or 'I'd like to have information about taxes and stuff like that," said DDO Seniors Club managing director Paola Arseneault.
"A lot of people still don't know about resources in the West Island, so the volunteers have collected information and centralized it at a place where seniors always go to. It's basically a resource centre to find out about what activities are in the area," she added.
The Seniors Information Office was made possible by a Service Canada $25,000 New Horizons Grant to equip the office with items such as computers and furniture, as well as to train the volunteers; and by the City of Dollard des Ormeaux which provided the space.
Demand for information about resources, activities and services available to seniors have increased over the years. As a result of receiving the grant, seniors in the community now have a local place to go to for assistance. It is also a hub where members can volunteer to assist other seniors, in keeping with the club's philosophy: Seniors helping seniors.
Arseneault said that although right now the office is focused on DDO residents, it will still help anyone who calls.
"Club membership is at maximum capacity," she said. "We have more than 650 members and most activities are quite full, so I have to restrict registration at first to Dollard residents."
"Right now, about 85 percent are Dollard residents and 15 percent are not. If there's room, we will let some non-residents participate in some activities but, if it's full, seniors who are residents will take precedence. At the same time, if people want information, we'll give anybody information."
Paola Arsenault (left) and Dollard Seniors Club volunteers have created a hub to share much-needed information.
(function(i,s,o,g,r,a,m){i['GoogleAnalyticsObject']=r;i[r]=i[r]||function(){
(i[r].q=i[r].q||[]).push(arguments)},i[r].l=1*new Date();a=s.createElement(o),
m=s.getElementsByTagName(o)[0];a.async=1;a.src=g;m.parentNode.insertBefore(a,m)
})(window,document,'script','//www.google-analytics.com/analytics.js','ga');
ga('create', 'UA-45892555-1', 'robertfrankmedia.blogspot.com');
ga('send', 'pageview');