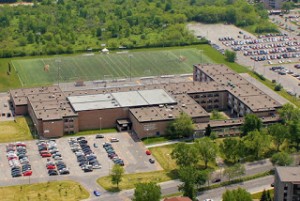 By Geneviève April and Robert Frank
www.thesuburban.com
Laval Liberty High School and Laurier Senior High might be reorganized or merged soon, possibly becoming all-senior and all-junior high schools, respectively, if a plan that Sir Wilfred Laurier School Board (SWLSB) is considering comes to fruition.
Each of the schools is currently paired with a corresponding junior high school that is co-located on the same premises.
The Suburban has learned from a number of sources within SWLSB that the board has put two options on the table.
One option is to maintain separate schools, each with its own principal. When The Suburban went to press this week, it had not been confirmed if that option would entail Laval Liberty becoming an all-senior high-school, while Laurier Senior would be transformed into an all-junior establishment.
The other option could see both schools fused into a single administrative entity occupying two different campuses, under the ambit of a single principal.
One of The Suburban's sources, who spoke to the newspaper on condition of anonymity and has access to the draft transition proposal, explained that Laval Liberty suffers from a erroneous though pervasive perception among parents that it is not a good school.
The insider noted that the proposal is far from a done deal, and that such a major change would eventually entail public consultation.
This is not the first remake that Laval Liberty has undergone. The school was founded in 1962 as Chomedey Protestant, but two years later was christened Chomedey Polyvalent High School. In 1994, the school was renamed Western Laval High School.
Eleven years later, in 2005, it was dubbed Laval Liberty. The ethnically diverse high school was given a mandate that combines academics, arts and athletics.
"You have to reorganize the school every ten years, to address the considerable challenges that it faces," another school official told The Suburban.
Laval Liberty High School
Laurier Senior High School
(function(i,s,o,g,r,a,m){i['GoogleAnalyticsObject']=r;i[r]=i[r]||function(){
(i[r].q=i[r].q||[]).push(arguments)},i[r].l=1*new Date();a=s.createElement(o),
m=s.getElementsByTagName(o)[0];a.async=1;a.src=g;m.parentNode.insertBefore(a,m)
})(window,document,'script','//www.google-analytics.com/analytics.js','ga');
ga('create', 'UA-45892555-1', 'robertfrankmedia.blogspot.com');
ga('send', 'pageview');