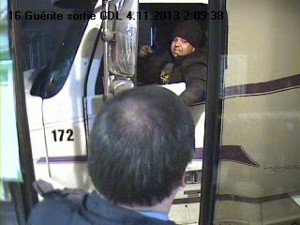 By Robert Frank
www.thesuburban.com
Ontario Provincial Police (OPP) arrested 33-year-old Vaudreuil resident Sandeep Singh Dhillon, in Hawkesbury, Nov. 4, after the trucker allegedly made off with a 53-foot trailer worth $40,000 containing $100,000 worth of fresh chicken.
"Cargo theft is big crime right now, but these people were never caught until now," Bobby Goman, operations manager at Inter-Source Transport told The Suburban. "Every month—sometimes every other week—someone steals a trailer."
Fed up with constant losses, Inter-Source had installed a surreptitious satellite-tracking device in the refrigerated trailer that was stolen.
"It left our yard at about 2:20 a.m.," he said. "Once we noticed that it was missing later that morning, we pinpointed the location of the trailer and alerted police."
At first, the device showed that the load of chicken was in Vaudreuil. It later moved to Hawkesbury, where it parked at a grocery parking lot near County Road 17.
"Once we told Montreal police where it was, they transferred me to the Hawkesbury OPP detachment. They were able to track down the load within five to 10 minutes. Dhillon—who goes by the nickname Nikka—was arrested and charge with possession of the stolen truck and merchandise."
"I was amazed at the job done by police," Goman commented. "Those guys were very quick."
"The suspect was behind the wheel," OPP Const. Pierre Dubois told The Suburban. "We've charged him with possessing stolen property worth more than $5,000 then turned him over to Montreal Police, following a bail hearing."
Dhillon is slated to appear again before the court in L'Original, Ontario, at 9 a.m., Nov. 27. Montreal Police have also laid separate charges in Quebec against Dhillon.
"He stole the truck in St. Laurent, before driving it to Dorval to steal the trailer," Station 5 Commander Mohamed Bouhdid told
The Suburban.
"These charges are in addition to the charges that were laid in Hawkesbury."
Commander Bouhdid added that Dhillon was subsequently released on a promise to answer the charges in court, "in a few months."
In the meantime, he said, police detectives are continuing their investigation.
Knowing when the trailer left the Côte de Liesse facility also permitted Inter-Source to identify imagery of Dhillon captured by its security cameras.
Goman added that police safely recovered the almost pilfered poultry.
"Only one box of chicken was missing, possibly to show people the merchandise," he said.
According to Quebec government documents, Dhillon is certainly knowledgeable about the trucking industry.

He operated his own trucking firm until 2010 that went by the names Cool Punjabi Transport and Trans-Cool Logistics. American documents show that as recently as 2011, he represented trucking firm TransCanam and Logistics, which operated under U.S. Department of Transport permit number 2166075.
The documents gave the business address for the firm as Dhillon's home in Vaudreuil. In 2009, the Quebec Transport Commission authorized Trans-Cool to acquire a used 1999 Volvo truck serial number 4VG7DERH6XN792619.
Security camera photo helped to identify alleged Dorval poultry pilferer Sandeep Singh Dhillon.
(function(i,s,o,g,r,a,m){i['GoogleAnalyticsObject']=r;i[r]=i[r]||function(){
(i[r].q=i[r].q||[]).push(arguments)},i[r].l=1*new Date();a=s.createElement(o),
m=s.getElementsByTagName(o)[0];a.async=1;a.src=g;m.parentNode.insertBefore(a,m)
})(window,document,'script','//www.google-analytics.com/analytics.js','ga');
ga('create', 'UA-45892555-1', 'robertfrankmedia.blogspot.com');
ga('send', 'pageview');