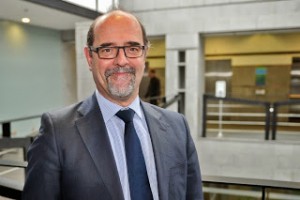 By Geneviève April
www.thesuburban.com
The provincial commission appointed to oversee all Laval's affairs announced, Nov. 15, that it has appointed Serge Lamontagne to serve as the city's top civil servant.
Mr. Lamontagne will begin his new duties as Laval's city manager on Jan.1.
The hiring process was overseen by an independent selection committee, which included newly elected Mayor Marc Demers in the final decision.
"Since Mr. Demers will have to work closely with the director general, it was important that he should be included," municipal commission spokeswoman Sylvia Morin told
The Suburban.
"I was presented with two equally interesting candidates, though one was more available," Demers added in a subsequent interview. "Mr. Lamontagne is well-suited to do this job; his participation in the Léonard Report on ethics and contracts will bring some desirable skills to Laval's municipal administration, which has already begun its transformation."
The city said in a statement that Lamontagne, who earned a master of business administration degree, is currently employed as Montreal's interim city manager.
It suggested that — given Laval's current predicament — another valuable quality that Lamontagne will bring to his new job is his experience at implementing a law to ensure that the city of Montreal contracts were tendered cleanly.
The statement said that Lamontagne had demonstrated the rigor and familiarity with the transparency and probity needed of public officials in today's context.
According to a municipal commission document, Laval's new top civil servant, Serge Lamontagne, will earn a salary of $250,000 to run the city during 2014.
(function(i,s,o,g,r,a,m){i['GoogleAnalyticsObject']=r;i[r]=i[r]||function(){
(i[r].q=i[r].q||[]).push(arguments)},i[r].l=1*new Date();a=s.createElement(o),
m=s.getElementsByTagName(o)[0];a.async=1;a.src=g;m.parentNode.insertBefore(a,m)
})(window,document,'script','//www.google-analytics.com/analytics.js','ga');
ga('create', 'UA-45892555-1', 'robertfrankmedia.blogspot.com');
ga('send', 'pageview');