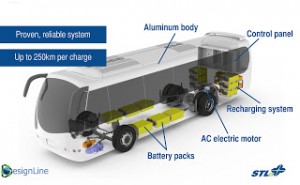 By Robert Frank
www.thesuburban.com
An American bankruptcy judge has approved the sale of bankrupt busmaker Designline, which built the battery-powered bus Société des transports de Laval (STL) is currently testing on city streets.
According to the Charlotte Observer, Wonderland Investment Group of Newport Coast, California, has offered US$1.6 million for the firm and plans to invest another US$30 million, pending the outcome of negotiations with transit authorities in New Jersey, Denver and Montreal.
STL is not among Designline's creditors, Laval transit authority spokeswoman Marie-Céline Bourgault told The Suburban in an interview.
"We are still doing testing on our [prototype] electric bus, anticipating the onset of winter with its cold weather and snow," she said. "That will permit us to assess how the bus performs under those demanding operating conditions."
Next year, Bourgault added, STL also expects to receive the first of the 100 hybrid diesel-electric buses that it has ordered. Delivery of its initial 19 cost-saving and environment-friendly coaches is anticipated as early as Spring 2014.
She said that Quebec taxpayers will be subsidizing more than half of the cost of STL's new hybrid buses.
"A conventional diesel bus costs about $500,000, and the price of a hybrid bus is about $650,000," Bourgault explained. "The Quebec gives a 50 per cent grant for the first $500,000, plus 75 per cent for the amount that the hybrid bus costs in excess of the price of a conventional diesel bus, which is $150,000."
"Consequently STL will benefit from a [net] grant of 56 per cent [$362,500] of the price of the hybrid buses," she concluded.
Bourgault expects that STL will receive 25 more hybrid buses in 2015, with 28 more slated for deliver in 2016 and another 28 to complete the order in 2017.
(function(i,s,o,g,r,a,m){i['GoogleAnalyticsObject']=r;i[r]=i[r]||function(){
(i[r].q=i[r].q||[]).push(arguments)},i[r].l=1*new Date();a=s.createElement(o),
m=s.getElementsByTagName(o)[0];a.async=1;a.src=g;m.parentNode.insertBefore(a,m)
})(window,document,'script','//www.google-analytics.com/analytics.js','ga');
ga('create', 'UA-45892555-1', 'robertfrankmedia.blogspot.com');
ga('send', 'pageview');