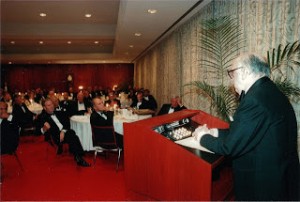 What it's worth being remembered for


By Robert Frank
www.thesuburban.com
We don't usually hear much from former mayors. Pace Gilles Vaillancourt, few of them intrude in the cut and thrust of municipal politics after they've bowed out of the electoral arena.
Rewind to this time of year in 1986. The country's best and brightest were at a private dinner that I had helped to organize. They had come to pay homage to one of the two best-known Canadians in the world, who had just announced his retirement: Montreal Mayor Jean Drapeau. Among them, the other universally recognized Canadian: Pierre Elliott Trudeau.
After the sumptuous meal, Drapeau held the crowd of Canada's top politicians, businesspeople and financiers rapt. No notes. No prepared remarks. He simply stood and spoke extemporaneously with an intelligent and passionate rhetoric rarely seen of today's orators.
The outgoing mayor, who exercised power in inverse proportion to his stature, recounted the many grand projects that had left his indelible imprint on the great city.
Montreal had, by then, already started to play second fiddle to Toronto. No mind, said the ever-proud Drapeau. Toronto can be Milan. Montreal will always be Rome.
So which of his achievements did he wish posterity to remember him for?
Not the Metro subway system, he said. Nor was it Place des Arts where, during his watch, the Montreal Symphony Orchestra gained recognition as one of the finest in the world.
Perhaps Expo 67, which brought the entire world to Montreal's door, during Canada's centennial celebrations? Nope.
Could it his riposte to Charles de Gaulle on the balcony of city hall, right after the retired general's infamous Vive le Québec libre invocation? Might it be major league baseball in 1969 or, better yet, the 1976 Olympic Games—Montreal's last bask in the global limelight before the advent of the Parti Québécois first mandate? That wasn't it.
Rather, Drapeau reminded the assembled glitterati of his first mandate. That Montreal had been rife with patronage and corruption. That he had been elected to clean it up—and had done so.
"That," said the tough but soft-spoken mayor, "is what I want to be remembered for."
"I was first elected on a Mr. Clean mandate, and that is how I would like to be remembered," Montreal Mayor Jean Drapeau told dignitaries including Prime Minister Pierre Elliott Trudeau (centre) when he retired in 1986.
(Photo Shane Kelley)
Robert Frank with Jean Drapeau upon the mayor's retirement in 1986.
(Photo Shane Kelley)
(function(i,s,o,g,r,a,m){i['GoogleAnalyticsObject']=r;i[r]=i[r]||function(){
(i[r].q=i[r].q||[]).push(arguments)},i[r].l=1*new Date();a=s.createElement(o),
m=s.getElementsByTagName(o)[0];a.async=1;a.src=g;m.parentNode.insertBefore(a,m)
})(window,document,'script','//www.google-analytics.com/analytics.js','ga');
ga('create', 'UA-45892555-1', 'robertfrankmedia.blogspot.com');
ga('send', 'pageview');