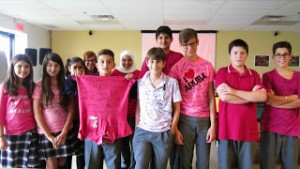 By Robert Frank
www.thesuburban.com
"Students came up with the idea," smiled North Star Academy principal Josée Pépin. "They said 'Let's make a difference in someone's life.'"
At their bidding, the Chomedey private high school has decided to fund a $10,000 tuition scholarship, either for a student who is keenly interested in the topic, or for someone who has lived through bullying.
"We want a candidate for whom this is close to their heart," Pépin explained. "Perhaps they would like to study a discipline such as psychology later on and work in that field in order to make a difference, or they are instead someone who themselves has been unfairly treated an needs a safe environment like NSA."
"The reality out there is that bulling is happening," underscored NSA guidance counselor Susie Nemes. "It goes on in every school, though it takes different forms."
"It's different for boys than girls," she added. "It's not an argument. It's repetitive behaviour that is calculated either to inflict emotional or physical pain."
"Last week, NSA held its annual anti-bullying week to help students understand the effect and impact of bullying, and how they can make a difference in their peers' lives," Nemes said. "Besides wearing pink-themed anti-bullying t-shirts, NSA students participated in a contest to get as many students as possible to sign a pledge that they would never bully anyone. At the end of the week, the three students who collected the most signatures won a prize."
Social worker Rosie Dandrea from the Agoo children's private health centre also led a workshop for students on the topic.
"Sometimes it can get totally out of hand, and someone can get seriously hurt physically or emotionally," Nemes advised.
"If parents suspect that their child is being bullied, it's important to reach out for help, rather that pass it off," she added. "Make sure your child knows that you're listening to what they're going through and that you're going to try to make it better."
"If the source of the problem is at the school, contact the guidance counselor," Nemes said. "We will look into it discreetly."
North Star Academy students asked their peers to sign their t-shirts pledging never to bully anyone.
(function(i,s,o,g,r,a,m){i['GoogleAnalyticsObject']=r;i[r]=i[r]||function(){
(i[r].q=i[r].q||[]).push(arguments)},i[r].l=1*new Date();a=s.createElement(o),
m=s.getElementsByTagName(o)[0];a.async=1;a.src=g;m.parentNode.insertBefore(a,m)
})(window,document,'script','//www.google-analytics.com/analytics.js','ga');
ga('create', 'UA-45892555-1', 'robertfrankmedia.blogspot.com');
ga('send', 'pageview');