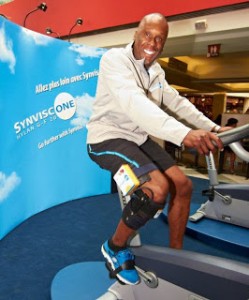 By Robert Frank
www.thesuburban.com
Canadian Sports Hall of Fame star Bruny Surin is one of the thousands of people flocking to relocate to Laval during the coming year, but the soon-to-be-empty-nester's recent visit to Île Jésus had nothing to do with his daughters moving out to study at university.
The gold medalist in the 4x100m relay at the 1996 Atlanta Olympic Games made the trip to his future hometown to share his experience with crippling arthritis pain.
"About three years ago, my left knee started to feel sore," he told The Suburban in an interview. Since the athlete was no stranger to sore joints, he initially shrugged off the pain.
"At first, I put it on ice," he recalled. "I figured it would get better in a few days, but the pain lingered."
"So I tried physiotherapy and chiropraxy, which provide some relief," Surin said, "but after a few weeks I started to get a sharp pain with ever step I took. It was like someone was sticking a sharp needle inside my knee."
"I couldn't walk properly and was using my right knee so much to compensate that I would have eventually have ruined it too," he said. "The pain was so bad that it kept me from sleeping at night."
Luckily, the elite athlete knew top orthopædist Dr. Pierre Ranger, who tried a new treatment called Synvisc-One (www.synviscone.ca), made by Laval pharmaceutical giant Sanofi.
"My pain was gone within days of the injection, and I regained normal knee movement," Surin said. "Now I can do pretty much what I want, save for deep knee squats or impact exercise like running."
According to Sanofi pharmacist Nelly Komari, the Synvisc-One gel mimics the natural knee fluid that we're born with so closely that it can help to prevent further damage.
"The important thing is to see a physician the minute that you start to feel knee pain," she told The Suburban. "Early treatment can help to prevent a lot of knee damage, and some limited studies show that Synvisc-One might even preserve cartilage."
"Anyone can purchase Synvisc-One at a pharmacy without a prescription," Komari explained, "but it has to be administered by physicians experienced in intra-articular injections, and a prescription is needed for insurance reimbursement."
"There's a minimum of six months between treatments, and no maximum number of injections," she added. "It depends on how the patient responds."
Bruny Surin: "If I didn't have connections as an elite athlete, I wouldn't have known about Synvisc-One and I would still be suffering from terrible knee pain today."
(function(i,s,o,g,r,a,m){i['GoogleAnalyticsObject']=r;i[r]=i[r]||function(){
(i[r].q=i[r].q||[]).push(arguments)},i[r].l=1*new Date();a=s.createElement(o),
m=s.getElementsByTagName(o)[0];a.async=1;a.src=g;m.parentNode.insertBefore(a,m)
})(window,document,'script','//www.google-analytics.com/analytics.js','ga');
ga('create', 'UA-45892555-1', 'robertfrankmedia.blogspot.com');
ga('send', 'pageview');