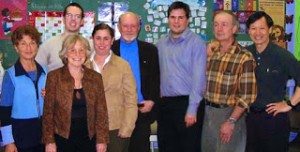 By Robert Frank
www.thesuburban.com
All of Beaconsfield's mayoral hopefuls have staked out a position on the Parti québécois government's proposal to pass a law that would regulate overt expressions of faith by provincial and municipal employees.
The province has mooted permitting municipalities to opt out, at least temporarily, from those rules.
In alphabetical order, here are their views on what they intend to do, if they are elected mayor, Nov. 3:
James Bonnell deplored that municipalities might have to become engaged in what, he considers, is essentially a provincial matter.
"That would be a last resort," he said. "On the other hand, we are all individuals who contribute to shaping the [province's] values. My concern is that each individual brings an important attribute to society, so once one infringes on the residents of Beaconsfield, that is something we would definitely need to look at."
Georges Bourelle said that the proposed restrictions on personal freedoms that he has read about go too far, although he expressed concern that something needs to be done about what he considers immigrants' excessive demands in some instances.
Hela Labene told
The Suburban
that she doesn't have position on the values charter.
"Not really, not for now," replied Labene, who previously served as a member of the executive of Parti québécois riding association for the West Island's Jacques Cartier electoral district. "Me, I want to start with my city first. I want to do what you have to do here. You have to start somewhere and after we move on. This is Beaconsfield and let's work with Beaconsfielders to put Beaconsfield first."
Rhonda Massad wants see specifically what the Parti québécois proposes to do, "but based on what I have heard, I would opt out. The way the rumours are going, I would say no. I would opt out."
Values charter is not a priority for Beaconsfield mayoral hopeful Hela Labene, seen here (fourth from left) with fellow members of the Parti québécois' Jacques Cartier riding association executive in 2004.
(function(i,s,o,g,r,a,m){i['GoogleAnalyticsObject']=r;i[r]=i[r]||function(){
(i[r].q=i[r].q||[]).push(arguments)},i[r].l=1*new Date();a=s.createElement(o),
m=s.getElementsByTagName(o)[0];a.async=1;a.src=g;m.parentNode.insertBefore(a,m)
})(window,document,'script','//www.google-analytics.com/analytics.js','ga');
ga('create', 'UA-45892555-1', 'robertfrankmedia.blogspot.com');
ga('send', 'pageview');