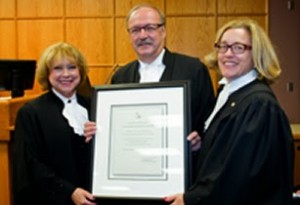 By Tracey Arial
www.thesuburban.com
Earlier this month two Laval judges, Jacques R. Fournier and Marc St-Louis, received awards of recognition. Both were presented as Quebec's Chief Judge, the honourable Élizabeth Corte opened Laval's courts on Sept. 9.
The Laval bar award of merit for outstanding professional accomplishments and dedication to his professional order was presented to Jacques R. Fournier by Quebec's chief justice, Nicole Duval Hesler.
Fournier was named to Quebec's superior court in 2002. Prior to that, he ran a private practice, which began in 1978. He taught and helped developed various programs at the barreau between 1985 and 1994. He's also a member of the Montreal bar and the Quebec bar, where he previously served as vice-president, bâtonnier, and counsel for the Moisan Inqury into fees paid by Groupaction. He has also taught at CEGEP du Vieux Montréal, Université du Québec à Montréal and the University of Montreal.
Bâtonnier Martine Nolin presented Marc St. Louis with the Linda Guillemette Prize, in honour of his volunteer social justice work providing legal-aid services.
During the same ceremony, the Laval Bar Association gave more than $100,000 to the Quebec Cystic Fibrosis Society. The amount was raised during the Laval Bar Associations first judicial cyclathon charity fundraiser, which took place September 21.
As an aside, Hesler was the first woman appointed to her position. Stephen Harper appointed her on October 7, 2011.
Quebec Court of Appeal Justice the Hon. Jacques R.
Fournier (centre) receives the Laval Bar Association's certificate of recognition from Quebec Court of Appeal Chief Justice the Hon.
Nicole Duval Hesler, Sept. 9. They are joined by
bâtonnière Martine Nolin (right).
Devoted volunteer judicial service to vulnerable members of the community earned Laval lawyer Marc St. Louis (centre) this year's Linda Guillemette award. Laval Bar Association bâtonnière Martine Nolin presented the prize during a Sept. 9 ceremony.
(function(i,s,o,g,r,a,m){i['GoogleAnalyticsObject']=r;i[r]=i[r]||function(){
(i[r].q=i[r].q||[]).push(arguments)},i[r].l=1*new Date();a=s.createElement(o),
m=s.getElementsByTagName(o)[0];a.async=1;a.src=g;m.parentNode.insertBefore(a,m)
})(window,document,'script','//www.google-analytics.com/analytics.js','ga');
ga('create', 'UA-45892555-1', 'robertfrankmedia.blogspot.com');
ga('send', 'pageview');