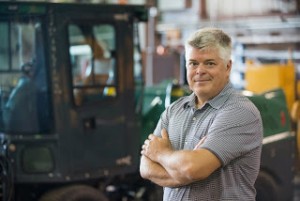 Openness to other languages, cultures spurring sales
By Robert Frank
www.thesuburban.com
The cream of Laval's business community gathered at SHAN last night to honour five local firms for their export excellence.
"It was a tough choice," said Véronique Proulx, explaining that the city's province-leading export drive has nurtured many successful trade-oriented firms.
"There were so many that have distinguished themselves," continued Laval Technopole's director of international affairs. "The companies whom we selected to bestow our 15th annual MercadOr awards demonstrated a great deal of innovation and contributed to spreading Laval's expertise around the world. Their success will undoubtedly inspire other local entrepreneurs to consider exports as a growth vector for their businesses."
Richard D. Daneau (R.P.M. Tech)
Openness to other languages and cultures has made company rich.
Export leadership—R.P.M. Tech
Garnering laurels for Laval export leadership was R.P.M. Tech.
The firm has been making industrial snow blowers since 1962 and, in 1987, started making utility vehicles and heavy equipment for maintaining roads, railways, subways and airport runways, as well as a line of oversized on- and off-road trucks.
Eight years ago, R.P.M. Tech decided to branch out beyond its traditional regional markets. The decision proved lucrative: Last year, only six percent of its sales —which topped $54 million—came from Quebec. Some 64 percent came from the United States; 22 percent from the rest of Canada; and six percent from Asia.
"Exporting often requires speaking a new language, adapting to other cultures and organizing production differently, along with long-distance travel and schedules that have to take various time zones into account," emphasized R.P.M. executive vice-president Richard D. Daneau.
Renaud Lavoie (Embrionix)
More than 90 percent of its 30,000 percent sales growth comes from abroad.

New exporter—Embrionix
The prize for new exporter went to video broadcast equipment manufacturer Embrionix.
The company, which has patented an innovative interconnection module and has a dozen more patents pending, derives well over 90 percent of its sales revenue abroad, selling to Europe, North America, the Middle East, East Asia and Australia.
"I think you have to sell beyond your borders in order to make a dent in the market at home!" declared Embrionix president Renaud Lavoie.
The 25-person company's revenue has soared 30,000 percent during the last three years.
Nicholas Bourgeois (Citagenix)
German pied-à-terre.
Market diversification—Citagenix
Dental- and orthopedic-related regeneration-device maker Citagenix decided to concentrate on cultivating foreign customers for its products in 2004.
Since then, it has successfully penetrated markets in the United States, France, Turkey, Taiwan, Israel, Japan, South Korea, Saudi Arabia and Jordan.
Setting up a subsidiary in Germany also opened the door to exports to Germany, Italy, the United Kingdom and Greece.
"Good luck goes hand in hand with the ability to know when to seize an opportunity," enthused Citagenix vice-president Nicholas Bourgeois. "Our talent for finding distributors who share our belief in a job well-done shouldn't be overlooked either."
Jack dell'Accio (Essentia): The best a mattress can get.

Expansion abroad—Essentia
Jack dell'Accio became interested in finding a way to make mattresses that didn't contain any toxins, after one of his loved ones was diagnosed with cancer. At the time, none was available, so he did his own research and developed a foam made of 100 percent natural materials.
In 2006, he launched Essentia to furnish top-of-the-line mattresses and bedding, as well as pillows that contain his patented, natural memory foam.
All are made by hand in Essentia's Laval factory.
The company, which operates its website in English, French, Spanish and Russian, has creating opportunities in Europe for the past two years.
"Customers are always going to be hesitant about buying an offshore—rather than a local—product," said Essentia's president. "To counteract that, you have to have products and services that are truly the world's best."
Isabèle Chevalier (Bio-K+): A great place to work.

Innovative people skills—Bio-K+
Laval biotech firm Bio-K+ earned top honours for its human resources practices. The company's patented probiotic products are sold in health-food stores, supermarkets, pharmacies, hospitals and healthcare professionals' offices throughout Canada and the United States.
Steadily rising demand has already led the company to open offices in Toronto, California and Florida and the company intends to set up a beachhead in Europe.
"It's primarily the Bio-K+ team that has driven our success," credited co-president Isabèle Chevalier. "It's their expertise that has enabled us to make, sell and distribute our products in a number of countries."
Bio-K+ was cited for its commitment to staff development through mentoring and
francization programs. It also promotes daily employee discussions and ample opportunity for exercise and sound diet.
(function(i,s,o,g,r,a,m){i['GoogleAnalyticsObject']=r;i[r]=i[r]||function(){
(i[r].q=i[r].q||[]).push(arguments)},i[r].l=1*new Date();a=s.createElement(o),
m=s.getElementsByTagName(o)[0];a.async=1;a.src=g;m.parentNode.insertBefore(a,m)
})(window,document,'script','//www.google-analytics.com/analytics.js','ga');
ga('create', 'UA-45892555-1', 'robertfrankmedia.blogspot.com');
ga('send', 'pageview');