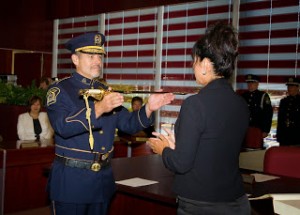 Pierre Brochet wants close ties with Laval citizens of all stripes
By Robert Frank
www.thesuburban.com
Laval Police, Sûreté du Québec and Royal Canadian Mounted Police will soon set up a new, combined crime-fighting squad, Laval Police Chief Pierre Brochet told The Suburban in interview, after taking office at the beginning of September.
"Laval citizens' safety is non-negotiable," he asserted. "The different police services will work in concert and exert constant pressure to ensure that it's not easy operate [organized crime networks] in Laval."
The combined squad will set up shop at Laval police headquarters during the next few weeks, Brochet announced. According to Laval police spokesman Lt. Daniel Guérin, it will bring together five Laval police officers with five SQ and two RCMP members.
A previous combined squad—which also included St. Jérome, Ste. Thérèse, Ste. Eustache, Terrebonne, Blainville, Mirabel, Lorraine, Rosemère and Repentigny police services—had racked up more than 800 arrests by the time that the team was disbanded, March 31, when its federal funding dried up. The closure came just after the squad had uncovered a mole who had been using his access to the St. Jérôme police computer network to spy for the mob.
"Laval is a city whose population is growing rapidly," Brochet observed. "Growth is positive, but urbanization can also be blighted by problems."
Police-public partnership
The new police chief said that he also plans to capitalize on his 28 years of experience with the Montreal police service to forge strong bonds with Laval's many diverse communities.
"The importance of the relationship with citizens can't be overemphasized," he explained. "We can't work in isolation."
"In Montreal, we formed strategic ties with representatives of the Arab, Asian, Black, Latino, youth and seniors population, to ensure that we remained constantly aware of these citizens' views."
"My experience has really prepared me to foster community ties," Brochet continued, "so the next step is to see how we can apply those lessons-learned, here in Laval."
"Professionalism and empathy are paramount," he said. "We want citizens to know that we're there for them and responsive to their needs. I plan to make the rounds of local organizations and I have told my police officers that it's essential that people who need help feel that they can turn to their local police service."
During the past few weeks, candidates from various municipal political parties have told The Suburban that crime is an issue in Laval. Though they did not fault the Laval police service, a number of them suggested that it does not have sufficient resources to do its job effectively.
No new positions have been added to the complement of about 500 officers for well over a year, despite Laval's ongoing population boom. Consequently the police service did not hold its annual ceremony this spring to welcome new recruits to the fold, though several police officers will receive promotions and long-service medals a ceremony slated to be held in November. In contrast, its Montreal counterpart employs some 5,000 police officers.
Brochet said that it is too soon to tell whether Laval merits an increase.
"During the next few months, we will see whether more police are needed to respond to Laval citizens' needs," he replied. "It's quite probable that we will need to do so. In the meantime, I'm very proud to serve in Laval with such a dynamic, engaged and committed team of police officers."
Laval's new police chief Pierre Brochet, who has officially been in the saddle since the start of September, received his ceremonial sword of office from Mayor Martine Beaugrand during a colourful ceremony at city hall, Sept. 12.
(function(i,s,o,g,r,a,m){i['GoogleAnalyticsObject']=r;i[r]=i[r]||function(){
(i[r].q=i[r].q||[]).push(arguments)},i[r].l=1*new Date();a=s.createElement(o),
m=s.getElementsByTagName(o)[0];a.async=1;a.src=g;m.parentNode.insertBefore(a,m)
})(window,document,'script','//www.google-analytics.com/analytics.js','ga');
ga('create', 'UA-45892555-1', 'robertfrankmedia.blogspot.com');
ga('send', 'pageview');